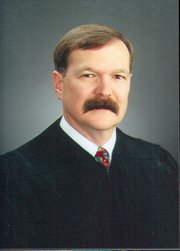 Topeka — Kansas Supreme Court Chief Justice Lawton Nuss said today that the judiciary budget for next year approved by the Legislature and Gov. Sam Brownback could result in shutting down all state courts for seven weeks.
"This is a terrible prospect to consider," Nuss said in announcing the appointment of a 10-member budget advisory committee.
The committee will be tasked with studying the consequences for Kansans if the Legislature fails to change the appropriations to courts.
Nuss said the budget approved for the year starting July 1, 2014, was $8.25 million less than the judicial branch's base budget request and $16 million less than its total budget request.
Nuss noted that budget shortfalls in 2010 and 2012 led to temporary court closings.
"Given this experience, we know that the simple solution to an $8.25 million reduction would be to close all state courts for about 7 weeks.
"While the court budget advisory council will consider many solutions to the underfunding problem, some statewide court closures may necessarily be part of their recommendations," Nuss said.
The 10-member advisory council includes judges, attorneys, law enforcement, business representatives and a state legislator. It will hold its first meeting Oct. 7.
The Legislature appropriated $127 million for the judicial branch for the current fiscal year and nearly $128 million for the next one.
But the budget for the previous fiscal year was nearly $132 million.
Brownback's office said the judiciary's budget was the product of the Legislature.
"Kansas law requires the Governor to include the request from the courts in his request unchanged, which he did. However, the Kansas Constitution gives the legislature the power of the purse," the governor's office said.
Senate President Susan Wagle, R-Wichita, said, "The Legislature passed a two-year budget to provide predictability for state agencies. However, the process does not do anything to prohibit state agencies and legislators from proposing amendments after the budget is passed."
Copyright 2018 The Lawrence Journal-World. All rights reserved. This material may not be published, broadcast, rewritten or redistributed. We strive to uphold our values for every story published.