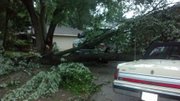 About 440 residences in Douglas County lost power after thunderstorms tore through the area. Westar spokesman Shane Batchelder said by about 4 a.m. Friday most all customers, save for about 20, had power restored.
"There was a lot of tree damage" and debris that flew into power lines, Batchelder said. "A handful of customers had meter boxes pulled away from their homes."
Westar called in crews in from Topeka, Atchison and Shawnee to help out. Batchelder said about six customers are without power as of Friday morning, but that is typical at any given time.
Check Westar's interactive map of power outages to report an outage or follow up.
Earlier in Thursday evening, at the peak of the storm, nearly 2,400 homes and businesses were reported without electricity before Westar employees restored power to some areas.
Neighborhoods in South Lawrence along 23rd and Iowa streets were among the most affected by the electrical outages.
The National Weather Service forecast predicted heavy storms through Thursday evening, ending after midnight.
The storm was destructive to property, as well. Handyman Greg Springer was working inside a rental property at 2709 Ousdahl Rd. when lightning struck a tree in the front yard. Springer says the tree split in two, crashing on his van parked in the driveway.
"The van might have saved the house," Springer said. "The tree kind of rolled over the van and away from the house."
Copyright 2018 The Lawrence Journal-World. All rights reserved. This material may not be published, broadcast, rewritten or redistributed. We strive to uphold our values for every story published.