One of our first "for fun" trips out of the house after the Kid was born was to the Toy Store, 936 Massachusetts St. I don't remember why, but I surmise that, perhaps in my postpartum what-do-I-do-with-this-creature haze, I was thinking, "Kids like toys, right?"
While that first trip is fuzzy, I know exactly why we kept going back.
There's a sign in the Toy Store's restroom declaring it the best bathroom in downtown Lawrence. It's not an idle boast. For a new mother trying to remember all the blankets and bottles and binkies necessary for even short trips out of the house, their clean changing table stocked with spare diapers and wipes was a lifesaver more than once.
(Close runner-up: The Blue Dandelion, 841 Massachusetts St., which also has a free, stocked changing table. It's a harder store to negotiate with a stroller — so many sets of stairs — but they get points for the private, comfy chair for breast-feeding moms.)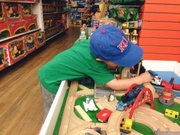 As the Kid grew, our trips to the Toy Store graduated from "just walking through for the wonderful bathroom" to "stopping to rest in the rocking chair and read books" and eventually to "playing for a half an hour with the train table while Mom enjoys her coffee and Facebook on Saturday morning."
And the train table is straight where my little Thomas the Tank Engine-obsessed Kid wanted to head when we stopped in for the "Cub Club" a few weeks ago.
The Cub Club is a free craft session that the Toy Store is holding each Wednesday afternoon this fall. It starts at 4 p.m., and includes projects like decorating a cookie face, building a marshmallow catapult, or, on the particular day we went, making a glow-in-the dark pet rock.
Promptly on time, Grace Chin, the Toy Store employee in charge of the activity that day, set up two paper-covered, kid-sized tables with a selection of neon-painted rocks. As four or five young children gathered around, Grace demonstrated how to turn the rocks into personalities: "Here are some eyes and feathers you can glue on. And here's paint to draw faces."
While the little ones worked, I chatted with Grace. The Toy Store schedules occasional parties and contests — they recently held an Alice In Wonderland Tea Party, for example — but the Cub Club is the only event that's weekly.
For the most part, it's a drop-in event, although sign-up was required for the more complicated "Build Your Own Wooden Ship" session at the end of August. Parents are required to stay and encouraged to help younger children. The projects are generally geared toward ages 3-7.
Grace said the specific schedule of crafts will only be released about a month at a time, but the next Cub Club, on Sept. 25, is called "Make Your Own Cookie Face." I've definitely got that one marked on my calendar!
We were interrupted when it looked like the kids present were too young to manipulate the squeeze bottles of black paint. Grace was admirably quick on the fly.
"Let me go grab some Sharpies for you," she told a dad trying to assist his daughter.
Once I pulled the Kid away from the trains, he was able to successfully glue one goggle-y eye and a feather to his bright green rock. Then he started scribbling wildly where the mouth should be. I offered to help, but clearly I just didn't understand his inspiration.
"I'm makin' a beard like daddy's," he informed me curtly.
Grace politely tried not to laugh, but her eyes sparkled as she smiled at me over the Kid's head.
We ended up leaving with both a glow-in-the-dark, bearded pet rock and a new train. We also had to visit the bathroom, of course, both for nostalgia's sake and because — in the throes of potty training ­— we visit all the bathrooms these days.
As always, it was a fun time playing at the Toy Store.
— Meryl Carver-Allmond lives in Lawrence and writes about chickens, babies, knitting, gardening, food, photography, and whatever else tickles her fancy on any given day at www.mybitofearth.net.
Copyright 2018 The Lawrence Journal-World. All rights reserved. This material may not be published, broadcast, rewritten or redistributed. We strive to uphold our values for every story published.