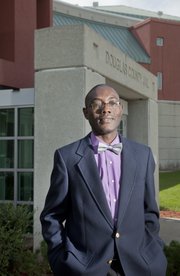 Kofi Boye-Doe wanted a better life for himself and his family. So at age 37, he did something radical. He left behind his country, his extended family and his job to start over, new, in America.
Since Boye-Doe, a native of Ghana, immigrated to Kansas with his wife and their sons in 2003, he has earned an associate's degree, two bachelor's degrees and a master's degree in criminal justice, and become an inspiration for others seeking a better life.
On top of working three jobs, Boye-Doe volunteers at the Douglas County Correctional Facility so that inmates can have the same opportunity to start over, new, upon their release. Boye-Doe is a co-facilitator of the Stinkin' Thinkin' class, a 10-week cognitive behavior course that shows inmates how to change their perspectives on their lives and make better choices when they are released.
Mike Caron, programs director at the Douglas County Correctional Facility, has been so wowed by Boye-Doe's irrepressible optimism, energy and passion to mentor inmates, that he nominated him for the United Way Roger Hill Volunteer Center's Wallace Galluzzi Outstanding Volunteer award.
"I had initial concerns about how inmates would react to a man from Africa who had a strong accent and dressed like a bank executive," said Caron, who oversees the more than 100 volunteers who serve in the 190-bed county jail. "Kofi soon proved that his attire and distinctive inflections were actually a plus in getting inmates to pay attention to his advice and encouragement."
Boye-Doe uses his life story as an immigrant who has seized opportunities, overcome obstacles, made the most of his many talents and worked incredibly hard to challenge the inmates to do the same.
"He calls people on their stuff, and they like that," Caron said. "It's not accusatory or threatening; he just tells them like it is. They respect him."
Volunteering at the county jail has given Boye-Doe an excellent opportunity to get real-world experience and develop practical skills in his new career. "I had a master's degree in criminal justice but didn't have any experience working with real human beings," he said. "I had a lot of academic theories, but I didn't have any time working face-to-face, knowing how they feel, talking with them."
Boye-Doe also volunteers as a mentor for the Kansas Department of Corrections, helping people who have been incarcerated succeed once they are released. He works with them to find housing, employment and opportunities to further their education. He does all this while also juggling his jobs as an instructor for Pinnacle Career Institute, a substitute teacher for Community Learning Opportunities and a home-health aid.
"Life is not about money; it's more about what you can do to help other people," he said. "It makes me happy, and I am giving back what America gave me."
There are plenty of opportunities for others to have a huge impact in the lives of inmates by volunteering at the Douglas County Correctional Facility, Caron said. Currently, Caron is recruiting volunteers to lead Alcoholics Anonymous and Narcotics Anonymous groups, teach job-readiness classes and provide other life-skills training for inmates. For more information, contact Caron at mcaron@dgso.org or (785) 830-1055.

— Micki Chestnut is director of communications for the United Way of Douglas County.
Copyright 2018 The Lawrence Journal-World. All rights reserved. This material may not be published, broadcast, rewritten or redistributed. We strive to uphold our values for every story published.