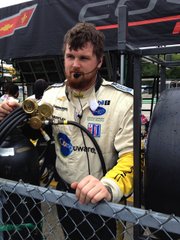 When Erich Ohlde was in fifth grade, his mother, Nancy, would walk by his room at night and see him reading auto mechanic books thinking it was just a phase he would grow out of.
But he didn't. Instead his interest kept growing and he started to install car stereos in high school.
He then got involved in racing building electronics for Jayhawk Racing's Formula SAE car while he was a mechanical engineering student at Kansas University from 2003-2008.
"Because of my background in car stereos, such as 12-volt electronics, I was the only person that could wire the whole car," Ohlde said. "I'd stay up 30 hours in Learned wiring the entire car so we could go testing."
Ohlde, 28, in Lawrence last weekend on his way to a race in Austin, Texas, is currently in his second year with Corvette Racing, based out of New Hudson, Mich. — which races in the American Le Mans Series — working on electronics for the team's two cars.
He works closely with the team's engineers, who run the team, and designs the electronics for the cars, which is built in-house at Pratt & Miller Engineering, a former employer of Ohlde's.
During races, he monitors the telemetry of one of the cars making sure the diagnostics are stable. He makes sure engine, transmission and oil temperatures are normal.
"I watch telemetry to see if anything starts to not work right," Ohlde said. "I look for early warning signs."
During pit stops, he is in charge of the fire bottle and is ready to starve any fire that might start.
He wears a full fire suit and helmet. On the back of his helmet he has two decals that are unique to him. One is a decal of the word "Lurch," the other is the Jayhawk Racing logo.
Lurch is Ohlde's nickname that was given to him in June 2012 at Le Mans by his teammates because he towers over the rest of the team. Standing at 6-foot-4, he is five inches taller than the next tallest on the team.
"I picked up one of the car chiefs, because he was driving me nuts, and carried him out of the garage," he said. "He then started making the Herman Munster laugh and then they started calling me Lurch."
The name got on his nerves, but he since has embraced it.
Ohlde raced a little in college, but he was generally too big for the car.
"I'm much happier that he's back on his computer watching (the car) move," Nancy said.
She's been telling him to get a real job and race as a hobby, but supports him because he's making a living doing what he wants.
He said the travel can be a bit much and it takes him away from his wife, Sasha, every other weekend until the middle of October.
"We're trying to Skype whenever we can," Ohlde said. "She supports me for sure, but she deals with it. I won't be traveling this much a lot longer. I can see three or four years probably because of the family side of things."
Copyright 2018 The Lawrence Journal-World. All rights reserved. This material may not be published, broadcast, rewritten or redistributed. We strive to uphold our values for every story published.