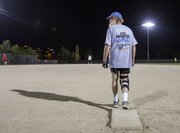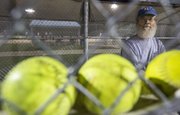 If Jim Bateman could take a stepladder to home plate, he would.
Bateman has a softball swing that could best be described as looking like he's been dispatched from the house by his wife to cut down a low-hanging branch. He swings at eye level with a downward tomahawk-chop action that has more than a hint of aggression in it.
"He's the only softball player I know that complains about the pitcher throwing the ball in the strike zone," says his son, Tim Bateman.
On this night — the last one of the season for his team — the elder Bateman breaks out the Paul Bunyan swing and delivers . . . a dribbler up the first base line. It results in a close, bang-bang play at first base. Bateman is out by only 10 or 15 steps.
Well, you've got to understand, for Bateman and his Red Beards team, bang-bang sounds a little different than it used to. To prove it, Bateman, 63, tugs on his snow-white beard.
"As you can see, we're a team now misnamed," he says.
Some things haven't changed—like the support and encouragement he gets from his teammates.
"Wow," teammate Mike McGrew says to Bateman as he returns to the dugout and walks by a Journal-World photographer. "The shutter speed of the camera couldn't catch that blazing speed."
Much else is different, however. Maybe a few years ago — Bateman has been managing the team for about 20 years — there would have been a bit more pregame energy, a few more primal grunts and manly predictions, especially if the team still had a mathematical chance for the championship. (Granted, the math was complicated enough that it required an abacus and the removal of cleats to do calculations, but still . . .)
On this night at the Clinton Lake Softball Complex, the pregame ritual is simpler. McGrew enters the dugout before the game and simply asks 47-year-old Lew Hanna — a full-time sales manager for an engineering firm and a part-time drummer in a "midlife-crisis rock band" — whether he's "brought it."
"What's 'it,' again?" Hanna asks. "Man, I think it's around somewhere. Maybe."
•••
What isn't around as much at the softball fields these days is people. The city's Parks and Recreation softball leagues still attract several hundred participants each season, but numbers are in a multiyear downward trend.
Paige Moore, the adult sports supervisor for Parks and Recreation, said the number of summer league teams dropped to 144 in 2013, down from 193 in 2011. Spring ball dropped to 125 teams, down from 148 in 2011 and the fall season dropped to 120 teams, down from about 141 two seasons ago.
Moore understands what's going on.
"A big part of it is that my Baby Boomers are getting older and leaving the game, and I don't have the youth coming in like I used to," Moore said.
What she doesn't understand is why it is happening. In a town that has built up a decent reputation as a softball haven, why is the younger generation now choosing to bypass the traditional sport?
Well, maybe part of the answer is that they prefer different sports. Kickball has come out of nowhere the past decade or so. Parks and Recreation has more than 60 teams, and there is a private league to boot. Co-ed volleyball numbers also are up significantly.
Jim Bateman thinks some of it is economy-related. A lot of teams used to be sponsored by construction and trade companies that would pay the team's league fees. The economy of the last few years wasn't conducive to those sorts of arrangements.
And he knows lots of kids of a younger generation grew up playing soccer instead of baseball. It makes sense they now may choose something like kickball instead of softball. But that's okay. It's still recreation, it's still exercise, it's still outdoors.
Some Red Beards, though, worry that the declining numbers may be something less positive.
"We're such an electronic generation," Hanna says. "But there is still a lot to be said for one-on-one human socialization. I'm afraid that we've all grown to think that when we're texting, we're socializing. We're not."
Not softball socializing anyway. And why would anyone want to miss out on a type of socializing that often can be so touching and caring? Like this moment: Red Beards in the field. Batter smokes a ball to second. Tim Bateman, Jim's own flesh and blood, snags the ball off a tough hop. Fires to first for the out. In great softball tradition, Jim flips the ball to the pitcher, turns his back on his son and looks to the bench.
"McGrew," he shouts. "See what you can do when you close your eyes?"
•••
At 63, Jim Bateman — who is an owner of the longtime downtown store The Yarn Barn — is certainly the oldest player on the Red Beards. He may be the oldest player at the complex tonight. No one objects when I label him the Yoda of Lawrence softball.
So I ask him a Yoda-like question: What would the world learn if it played more softball?"
"Easy," he says. "The price of a doctor's office visit."
Probably true enough. Bateman has suffered a broken wrist, courtesy of a line drive 20 years ago off the bat of Tim, when Bateman the younger was 14 and first started playing on his dad's team. Then there was the torn ACL, the concussion, the heart valve repair. That last one may not have technically been softball-related, though if you would see how many times these guys miss the cutoff man, it's enough to make the heart of any manager ache. But others on the team — members range from an accountant to I.T. professionals to a neon sign maker — say there are a few other lessons to learn.
McGrew, who leads Lawrence's McGrew Real Estate, said the game reminds him that "Field of Dreams" moments still are possible: A cool summer evening, a good group of guys and just a little bit of success. "When it is like this," he says, "it is perfect."
Mark von Schlemmer, a professor of film and media studies at KU, loves that the game is outdoors. Tim Bateman loves the conversations it creates with his dad. Too many guys to mention love being part of a team.
Hanna loves the simplicity of it all, although don't preach simplicity on those nights when the errors outnumber the hits.
"Everybody gets so busy and life gets so complicated," he says. "I say: Go do something simple. Hit a ball with a stick. Take a break and let your soul relax."
•••
There's no time for relaxing now. Bateman is back up at bat. His Bunyan-like swing thus far tonight has produced a single and some line outs. Yes, the calculations for first-place possibilities ended a while ago. Now Red Beard members have resorted to trying to bribe me to not report the game scores. But still, this at bat isn't the time to relax.
It's Bateman's last at bat of the game, on the season's final night.
The pitcher lofts one up there at tree-limb level, and Bateman does not get cheated. A line shot into center field goes over the head of the outfielder and rolls all the way to the fence. And Jim Bateman, turning 64 next month, is off to the races. McGrew yells for him to dig for third, and he gets there with a stand-up triple.
"That's Jim Bateman," the Red Beards yell from the dugout.
After a teammate knocks him in for a run, the veteran Bateman returns to the dugout with a simple analysis.
"Sooner or later," Bateman says of the other team's outfielders, "they all come in too shallow."
Maybe someday, Lawrence's younger generation will come back to this signature summer tradition. Maybe someday they too will find themselves standing on third base, underneath a perfect summer's sky, suppressing a smile and listening to the rare utterance of truth coming from their team's dugout.
"That's how you play softball," they yell at their manager. "That's how you play softball."
— Each Sunday, Lawhorn's Lawrence focuses on the people, places or past of Lawrence and the surrounding area. If you have a story idea, send it to Chad at clawhorn@ljworld.com.
Copyright 2018 The Lawrence Journal-World. All rights reserved. This material may not be published, broadcast, rewritten or redistributed. We strive to uphold our values for every story published.