Photo Gallery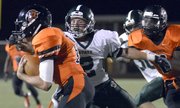 Free State football at SM Northwest
Summary
FSHS SMNW
First downs 13 9
Rushes-yards 34-218 43-142
Passing yards 136 37
Total offense 354 179
Return yards 31 55
Fumbles-lost 2-2 0-0
Penalties-yards 8-55 9-53
Score by quarters
FSHS 0 0 7 13 — 20
SMNW 3 0 0 0 — 3
Individual statistics
Rushing
FSHS: Joe Dineen 21-166 TD, Keith Loneker 3-32, Blake Winslow 4-11, Stan Skwarlo 6-9.
SMNW: Jake Horner 16-77, Jacob Giliam 16-55, Duron Lowe 3-6, Joel Droge 2-3, Justin Moody 2-2, Clay Drouillard 1-1, Laphonso McKinnis 1-0, Team 1-minus-2.
Passing
FSHS: Dineen 9-18-136 2 touchdowns.
SMNW: Horner 4-9-37 interception.
Receiving
FSHS: Winslow 4-70 2 touchdowns, Loneker 1-32, Skwarlo 3-24, Lucas Werner 1-10.
SMNW: Jake Hoskins 1-17, Connor Johnson 1-14, Spencer Cook 1-8, Droge 1-minus-2.
HOW THEY SCORED
First quarter
2:22 — Jonathan Killeen 44 field goal. (SMNW 3, FSHS 0.)
Third quarter
4:15 — Joe Dineen 3 run. Joel Spain kick. (FSHS 7, SMNW 3.)
Fourth quarter
8:09 — Blake Winslow 22 pass from Dineen. Spain kick. (FSHS 14, SMNW 3.)
0:30 — Winslow 1 pass from Dineen. Spain kick failed. (FSHS 20, SMNW 3.)
-->
-->
The way Free State High's football team played in the first half Friday night against Shawnee Mission Northwest, it was hard to tell for certain if those actually were the Firebirds wearing the white jerseys and green helmets.
Surely, one of the top teams in Class 6A couldn't get shut out in the first half?
That's exactly the dilemma that FSHS faced, however, before the players found their way back toward normalcy and recovered to beat the Cougars, 20-3, at Shawnee Mission North District Stadium.
Through one quarter, Free State (2-0, ranked No. 3 in Class 6A by Kpreps.com) had just one first down, two lost fumbles, one roughing-the-punter penalty and trailed, 3-0, after SMNW junior kicker Jonathan Killeen drilled a 44-yard field goal.
Firebirds coach Bob Lisher said once the players created a mess for themselves against SMNW (0-2), things began to snowball, and it really never got better until the third quarter.
"We turned the ball over a few times there early, and we started to press a little bit," Lisher said. "We weren't doing the correct reads, the correct checks, we were dropping balls, not blocking right. I mean, about everything that could go wrong went wrong."
Cougars senior lineman Ariska Savior fell on a fumble by Free State running back Stan Skwarlo, and junior Kendall Spencer recovered a mishandle by FSHS quarterback Joe Dineen in the first quarter.
Other than a 17-yard run by senior Keith Loneker in the second quarter, the only productive plays for the FSHS offense came when Dineen ran the ball or connected with senior receiver Blake Winslow. And though Winslow caught passes of 31 and 16 yards, those were Dineen's only completions of a 2-for-10 passing effort before halftime.
"We didn't execute anything," Dineen said. "It was like all week in practice. We had a bad week of practice, and it carried over to the game. That first half we couldn't execute, we couldn't move the ball, we couldn't hold on to the ball. It was ugly. It was ugly."
Bad as it was, though, the Cougars picked up all four of their first-half first downs on their opening possession, which concluded with the Killeen field goal. The Firebirds forced four straight three-and-outs before the second-quarter clock ran out on the final SMNW possession before the break.
Loneker said Free State didn't respect SMNW like it should have coming into the game, which led to the mistakes. But the team's halftime talk re-focused the players.
"One thing I like about this team this year," Loneker said, "is we have a lot of positivity. It's not: 'You did this wrong. You did that wrong.' Seniors, even the juniors, all knew we've got a whole half, we're only down three."
The Free State defense, which allowed 179 total yards, forced a punt to open the third quarter. On the Firebirds' first offensive series of the second half, they went 67 yards in 10 plays, and Dineen dove over the goal line for a three-yard rushing touchdown with 4:15 on the clock.
"We came out," Dineen said, "and played a hell of a lot harder."
On their first possession of the fourth quarter, the Firebirds went 79 yards in just more than three minutes. This time the drive ended on a fourth-and-12 from the Cougars' 22-yard line. Dineen dropped back to find Winslow open at the three-yard line, and the receiver hauled in the pass and went through a pair of SMNW defenders to reach the end zone with 8:09 to play.
That put the Cougars in a 14-3 hole, but they marched down the field with poise before Winslow pressured senior quarterback Jake Horner on a third-and-goal from the 11 and junior FSHS safety Joel Spain picked off a pass in the back-left corner of the end zone with 4:16 remaining.
Said Loneker: "That's what our defense is. We're tough. That's what we pride ourselves on."
Dineen, who finished with 166 rushing yards and completed nine of his 18 passes for 136 yards and two scores, said the defense carried the Firebirds before the offense woke up.
"Passing-wise, we're not there yet," the senior QB said. "But running the ball, the line came out and hit them in the mouth (in the second half)."
Free State will play host to Olathe East on Friday.
Copyright 2018 The Lawrence Journal-World. All rights reserved. This material may not be published, broadcast, rewritten or redistributed. We strive to uphold our values for every story published.