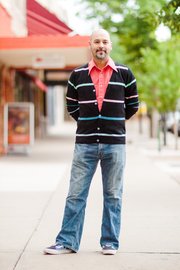 Name: Greg Bonsignore
Age: Thirties
Relationship status: Married
Hometown: Chicago
Time in Lawrence: One month.
Occupation: I'm a TOSA (teachers on special assignment) with Lawrence public schools.
Dream job: The job I have right now.
What were you doing when scouted? On our way to get a hamburger.
Describe your style: Vintage with a little help on the colors from my wife.
Fashion trends you love: I like the mix of the formal and casual: skinny ties with Converse.
Fashion trends you hate: Birkenstocks and those plastic Crocs! That's like basically saying you've given up on people looking at you.
Fashion influences: Broadway Antique Market in Chicago, vintage furniture and old movies.
What would you like to see more of in Lawrence? Asymmetrical haircuts and street vendors.
Less of? Chiggers!
Tattoos or piercings: I have a tattoo of the robot Maria from "Metropolis."
Whom do people say you look like? My students used to say that I looked like "that one guy from that one movie," but I never knew what they were talking about.
What type of music do you unwind to? The gypsy jazz stylings of Django Reinhardt.
Tell us a secret: I'm currently undergoing 60 straight days of yoga at the OmTree Shala on Mass. St. to prepare for turning 40.
Copyright 2018 The Lawrence Journal-World. All rights reserved. This material may not be published, broadcast, rewritten or redistributed. We strive to uphold our values for every story published.