Applying a product such as Rain-X or Aquapel to the exterior of an automobile windshield will dramatically improve visibility during rainy weather and will reduce icy buildup throughout winter.
Applying these same products to glass shower doors, ceramic tile, exterior windows and glass skylights will help keep the glass free from dirt and debris, increase visibility and reduce the need to clean these surfaces throughout the year.
Water-repelling products, technically known as hydrophobic glass treatments, adhere to glass surfaces and cause water to bead up into small droplets. These droplets then roll off any slightly vertical surfaces, removing dirt and debris along the way.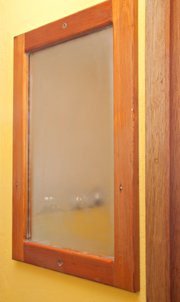 Applied properly, hydrophobic treatments can help keep glass clean and clear for a minimum of three months and often much longer.
Step 1: Thoroughly clean and dry the glass surface before applying Original Rain-X or a similar hydrophobic treatment.
Step 2: Use good-quality painters tape and plastic sheeting to protect any non-glass surfaces from the hydrophobic liquid.
These products typically contain denatured alcohol and can melt, etch or discolor plastic, painted and metal surfaces.
Step 3: Pour a fair amount of hydrophobic liquid onto a folded, dry, lint-free cloth. Surface temperatures should remain above 40 degrees Fahrenheit, and direct sunlight should be avoided during the treatment process.
Step 4: Wipe the hydrophobic liquid onto the glass surface, using firm, circular motions. Overlap each stroke of liquid to ensure the surface is covered entirely.
Step 5: Once the liquid has dried to a slight haze, use a dry, clean cloth to wipe away the residue, leaving the glass crystal clear. For spots where the dried residue is difficult to wipe away, sprinkle a small amount of water onto the haze and wipe clean with a soft cloth or paper towel.
Step 6: For glass surfaces that have a tendency to fog up, but do not typically come in contact with water, increase visibility by applying Rain-X Anti-Fog treatment or a similar product.
Anti-fog treatments work great on the interior of automobile windows, rearview mirrors and on bathroom mirrors and other glass surfaces in highly humid areas. Apply anti-fog treatments in the same manner as described for hydrophobic liquids.
Copyright 2018 The Lawrence Journal-World. All rights reserved. This material may not be published, broadcast, rewritten or redistributed. We strive to uphold our values for every story published.