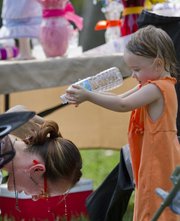 Lori Warren pressed the pedals of her double drive spinning wheel, creating momentum for the bobbin to rotate and spin the blue and yellow sheep's wool into yarn.
Warren, a vendor at Sunday's Fall Arts & Crafts Festival in South Park, was using a technique called "plying." She twisted together two strands, creating a mix of the bold colors. Her motions were quick and steady as she pulled and twisted the yarn, and the final product circled around another bobbin near her feet.
"I start with the wool, and then I dye it," Warren said, holding up a bag of multicolored fluff. "I spin it into singles and ply it. After I'm done spinning, I'll take it off the bobbin, wash it, and then it's yarn."
Warren was among about 160 vendors in booths lining the park's sidewalks Sunday, many of them having traveled in from the surrounding area to sell handmade goods such as crocheted hats and blankets, jewelry, honey, jelly and pickled vegetables. The biggest impediment to sales: the heat.
The 34th annual festival, sponsored by Lawrence Parks and Recreation, included a modern square dance demonstration and live music from several bands.
Members of the South Mass Arts Guild provided a free arts and crafts booth for children in the center of the park, where kids made art with supplies from the tables full of paint, corks, Popsicle sticks, glue, glitter and markers.
"There have been a lot of airplanes, sailboats and owls," said Lesa Weller, who oversaw the crafts table. "But the most popular thing is decorating the paper crowns."
Though a few kids were making crafts Sunday afternoon, Weller said the turnout was less than expected.
"Last year we were just packed," she said.
Perry Shepard, also with the South Mass Art Guild, thought the unseasonably hot temperatures could be to blame.
Around 1 p.m., the high was over 105 degrees, and the National Weather Service issued a heat advisory for the Lawrence area.
Vendors remained in the shade of their canopies, and visitors moved quickly from booth to booth. People stood in line at the two lemonade stands, and kids splashed themselves with the cool water from the fountain west of the gazebo.
Though the festival usually draws 6,000 to 7,000 guests, Shepard thought this year's crowd didn't measure up.
"We're pretty disappointed," Shepard said. "It's a light turnout compared to last year."
Warren's spinning booth was one of the places visitors lingered as they walked through the web of vendors.
"Everyone is real curious," said Warren's mother, Marilyn Holland.
Warren, of Topeka, learned how to spin yarn eight years ago. Three years ago, she learned how to weave and began making woven décor, scarves and pillows. She established her own business, Blushing Ewe, and has attended two or three craft fairs every year since.
"I have two spinning wheels and four spindles. I spin all the time," Warren said. "And when I'm not spinning, I'm weaving."
Warren passed down her craftiness to her 16-year-old daughter, Elysia, who made a variety of hand sewn stuffed monsters to sell at the festival.
After helping her mother and grandmother, Elysia took a break, escaping to the shade like many others.
Copyright 2018 The Lawrence Journal-World. All rights reserved. This material may not be published, broadcast, rewritten or redistributed. We strive to uphold our values for every story published.