It almost didn't seem fair that Shawnee Mission North's football team started a freshman quarterback Friday night at Free State.
Photo Gallery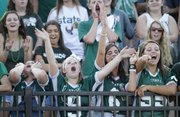 Free State Firebirds defeat Shawnee Mission North
The Free State Firebirds football team defeated Shawnee Mission North 47-7 in the season opener for FSHS.
Poor Will Schneider. Nothing could have prepared the Indians' new QB for the wrath the Firebirds were about to unleash in a 47-7 beating.
Free State (1-0, ranked No. 4 in Class 6A by Kpreps.com) had waited almost 10 months to get back on the field after an embarrassing loss to Shawnee Mission West in the semifinals of last year's playoffs, and the guys who experienced that 27-point defeat made sure whoever lined up across from them in this year's season opener would pay for it.
The defensive destruction began on just the third play from scrimmage. As senior Indians running back Jesse Patterson headed right in the backfield after a handoff, senior Free State linebacker Stan Skwarlo clocked him, forcing a fumble. And before a SMN offensive player could even think about falling on the free ball, in swooped senior linebacker Keith Loneker for the recovery and a defensive touchdown — less than a minute into the game.
Senior linebacker Blake Winslow said FSHS defensive coordinator Brett Oberzan challenged his players before the season began to make their defense an extension of the offense.
"He talked about last year we had seven defensive touchdowns," Winslow shared, "and he wants more than that. It's a good way to start it off."
The Firebirds didn't score any more on defense against the Indians, but they kept on creating turnovers. Sophomore cornerback Bryce Torneden picked off a Schneider pass late in the first quarter, thanks to some backfield pressure applied by FSHS junior defensive lineman Shane Hofer.
The 6-foot-3, 250-pound Hofer was at it again in the second quarter, forcing a fumble by the other SMN quarterback, Tyler Henry. This time Winslow pounced on the loose pigskin on North's 5-yard line.
The next time the Indians got the ball — after Skwarlo's five-yard touchdown run made for a one-play scoring drive — junior Firebirds safety Joel Spain intercepted a Schneider pass.
Seven plays later, senior FSHS quarterback Joe Dineen kept the ball for a one-yard rushing touchdown, and the Firebirds had a 47-0 lead with 1:09 left in the first half.
FSHS coach Bob Lisher said the Indians were trying to learn a new system and the Firebirds had size, strength and experience on their side, but he couldn't deny Free State's defensive dominance after his team created four first-half takeaways before halftime.
Even worse for the Indians, they entered the third quarter with minus-90 yards of rushing on 23 carries, due to the constant swarm of FSHS defenders in the backfield and two high snaps over the head of punter Tyler Burnett.
"I think we ran 26 plays in the first half and we were up, 47-0," Lisher said. "Defensively, they gave us a short field, pretty much all night long."
On the Firebirds' six scoring drives, they only had to go 15, 4, 41, 35, 5 and 41 yards. They capped those uncomplicated possessions with a Winslow touchdown reception from Dineen, a pair of Skwarlo rushing scores, a 27-yard connection from Dineen to Loneker, a 35-yard TD by Carson Bowen on an option pitch and a one-yard quarterback keeper.
The electric first half, Winslow said, wouldn't have been possible without Free State's stellar defense.
"We came out on the first few series and (SMN) couldn't even gain a yard," said Winslow, who had two sacks, deflected a pass and made a tackle for loss in the first half. "That kind of set the tempo and gave us confidence, and we rolled with it the rest of the night."
Added Hofer: "Everyone got in on every tackle."
The second half could have gotten ugly, but Free State's first-string offense only played one series.
Meanwhile, the defense kept coming through. Hofer made another tackle for loss and Tye Carter gave FSHS its fifth takeaway with an interception in the final minute.
Lisher couldn't leave the field totally satisfied, though. His team was flagged for 10 penalties and 77 yards, and he would have liked more second-half production from the offense, which was shut out in the final 24 minutes.
"When we got up by quite a few points I think there was a little bit of letdown," the coach said. "That's something we can't allow."
Free State finished with 282 yards of total offense and kept SMN to a disturbingly low minus-58 rushing yards and 40 total yards.
Still, Hofer said the Firebirds had another gripe after the 40-point drubbing.
"We (allowed) one touchdown, which no one was happy about," he said, "even though it was late in the fourth."
Free State plays next on Friday at Shawnee Mission Northwest.
---
SMN | FSHS
First downs 6 | 9
Rushes-yards 37-minus-58 | 30-165
Passing yards 98 | 117
Total offense 40 | 282
Return yards 94 | 90
Fumbles-lost 2-2 | 4-1
Penalties-yards 4-35 | 10-77
Score by quarters
SMN 0 0 0 7 — 7
FSHS 28 19 0 0 — 47
Individual statistics
Rushing
SMN: Mike Williams 10-31, Dominic Degraffenreid-Snell 7-18 TD, Jesse Patterson 4-7, Jake Langley 2-4, Parker Williamson 1-minus-6, Tyler Henry 1-minus-18, Tyler Burnett 2-minus-39, Will Schneider 10-minus-55.
FSHS: Joe Dineen 8-58 TD, Stan Skwarlo 8-44 2 TDs, Carson Bowen 3-33 TD, Bryce Torneden 5-19, Sam Skwarlo 1-6, Kalim Dowdell 2-6, Tye Carter 3-minus-1.
Passing
SMN: 5-12-92 2 interceptions, Henry 1-4-6 interception.
FSHS: Dineen 6-9-73 2 TDs, Torneden 2-5-13, Carter 2-4-31.
Receiving
SMN: Patterson 3-78, Burnett 1-10, Andrew Gonzales 1-6, Nick Perez 1-4.
FSHS: Andrew Keating 2-52, Keith Loneker 2-34 TD, Justin Narcomey 3-12, Blake Winslow 2-10 TD, Lucas Werner 1-9.
HOW THEY SCORED
First quarter
11:08 — Keith Loneker fumble recovery in end zone. Blake Winslow kick. (FSHS 7, SMN 0.)
9:15 — Winslow 8 pass from Joe Dineen. Winslow kick. (FSHS 14, SMN 0.)
4:34 — Stan Skwarlo 4 run. Winslow kick. (FSHS 21, SMN 0.)
2:11 — Loneker 27 pass from Dineen. Winslow kick. (FSHS 28, SMN 0.)
Second quarter
11:51 — Carson Bowen 35 run. Winslow kick blocked. (FSHS 34, SMN 0.)
4:47 — Skwarlo 5 run. Winslow kick. (FSHS 41, SMN 0.)
1:09 — Dineen 1 run. Winslow kick failed. (FSHS 47, SMN 0.)
Fourth quarter
9:11 — Dominic Degraffenreid-Snell 3 run. Greg Sloan kick. (FSHS 47, SMN 7.)
Copyright 2018 The Lawrence Journal-World. All rights reserved. This material may not be published, broadcast, rewritten or redistributed. We strive to uphold our values for every story published.