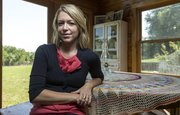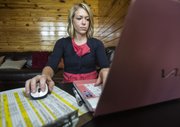 All You magazine this year set out to find the smartest shopper in America and Ottawa mom Emily Graves came out on top as its first-ever savings superstar.
The contest was launched in the March issue of All You, a magazine that caters to value-driven women who want to "live well for less."
Graves, 29, came across the contest in an email for free samples from the magazine. She decided to submit the requested one-minute video of her price-matching strategy and her unique shopping tool that she calls a Comp List (or price comparison list), where she keeps track of the sales listed for 25 grocery and drugstores in her area.
"I'll find the item that I want, the price, and put them in a spreadsheet," Graves said. "Then I take that to Walmart, I find the exact same items, same size, same brand, exactly the same. Then when I check out, I let them know exactly the price that I'm going to be paying for it."
Smart shopping tips
Emily Graves' top five smart shopping tips:
Always shop around before you buy something
"Check other websites and make sure you are getting the best deal because usually you can find a better price out there."
Don't complete your online checkout right away
"When shopping online, if you leave an item in your cart and don't complete the check out, sometimes they will email you a coupon to entice you to finish buying it. It's always worth a shot if you aren't in a huge hurry."
From clothing to eating out at a restaurant, join every email list that you can
"I always do that because they will always send you coupons. Retailmenot.com lists most of the stores and their deals."
Use Groupon
"One was for Wayne and Larry's and it was for $10 you get $20 worth of food. If you go on one of their nightly specials, you can eat for really cheap."
Price match
"See what your local store will do. When you get into it, add coupons. You can save a huge amount and you can get a lot of items for free."
Her bargain-hunting skills got the attention of the All You editors, advancing her to be one of eight finalists out of more than 200,000 submissions. The final eight videos were posted on allyou.com, and 50,000 readers voted her to the top of the three finalists.
Graves started price matching as a stay-at-home mom, when she was concerned about living on only the income of her husband, Darek. Now, on top of being a mother to a 5-year-old boy and 2-year-old girl, Graves works at Ransom Memorial Hospital and as a part-time nail technician at a spa.
But her work doesn't end there. She estimated that she spends close to 20 hours each week finding shopping deals and emailing the list to 7,100 people in her community. She also posts the list to Facebook, Twitter and her blog, gravespartyof4.blogspot.com.
Graves saves $25 on average each week with this list. In her video submission, she says that on average her readers save $80 per month. With the 7,100 followers, they altogether save more than a half-million dollars a month, all thanks to Graves' Comp List.
"People see shows like 'Extreme Couponing' and get disappointed when they don't get their groceries for free," Graves said. "But saving a little bit really does help."
The All You March issue featured a national survey on smart shopping behavior that revealed 82 percent of 26,000 women ages 21-59 say using coupons is a "way of life" for them. Graves sees price matching as underrated.
Senior editor Amanda Kelly said Graves embodies the passionate and creative spirit of All You and that her involvement with her own community set her apart from other contestants.
"She scours the sales in her area and devotes a couple nights a week to making a spreadsheet and shares it with the people in her community," Kelly said. "She works two jobs, she is a mom of two, and she really is creative about how she saves."
Copyright 2018 The Lawrence Journal-World. All rights reserved. This material may not be published, broadcast, rewritten or redistributed. We strive to uphold our values for every story published.