A preservation project involving a historic East Lawrence building has taken a turn that may spell the end of a longtime Lawrence glass studio.
Free State Glass has been forced out of its home of nearly 30 years at 307 E. Ninth St., after a portion of the historic building housing the studio was declared unfit for habitation by the city.
"This may have killed Free State Glass," co-owner Dick Rector said of the business that has gained a national reputation for its handmade glass items that range from paperweights to chandeliers. "I don't know yet."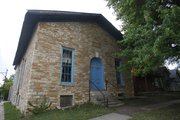 The condemnation notice came after city inspectors found large amounts of mold in the basement of the building, which is where Free State's studio is. The building is the 1869 Turnhalle building, which was purchased by the Lawrence Preservation Alliance last fall after officials became concerned about the condition of the building.
At issue is a leaking roof that has allowed large amounts of water to enter the building and significant amounts of mold to grow in the basement. On that, all parties agree. But the parties disagree on whether the Lawrence Preservation Alliance has dropped the ball on the project.
"I know they are all good people, but right now it seems like a willful disregard for our business, our people, our health and our rights as tenants by the officials of LPA," Rector said.
Dennis Brown, president of the Lawrence Preservation Alliance, said the nonprofit organization had acted responsibly, but was put in a tough situation because of the deterioration of the building.
"It is unfortunate that this has happened at this particular time," Brown said. "I sure wish the building could have hung in there a little longer. I feel for them in that sense. But it is not due to any negligence on LPA's part."
Brown said the LPA had roofing professionals undertake some repairs on the roof earlier this year, but it was determined that there wasn't a feasible way to do a short-term fix. Instead, significant structural repairs were needed. LPA has won a $125,000 grant from Douglas County to repair the roof, but Brown said the earliest that work could be designed and started is in November.
"If we had put a roof on right away, we would have been tearing it off right now and doing it right," Brown said.
Rector thinks an interim repair could have been made to the roof, if the LPA would have acted more quickly. Regardless, he said the situation he and his business partner find themselves in isn't fair. The city's order makes it difficult for the company to even get its equipment out of the building. Rector said the company doesn't have new space lined up for the business, and the shut-down comes at a time when the glass studio is supposed to be busy making items for the holiday season.
"I have clients who are expecting glass, and they aren't going to get any this year," Rector said.
He said he's unsure of what the future holds for the glass studio.
"I'm depressed about it and pretty worried. I don't see how to come out of this without starting over, and I don't know if I have that in me," said Rector, 54.
A city official said there was little choice but to declare the basement of the structure unfit for habitation because of the large amounts of mold.
"It is a damp, wet space that is really good for mold growth," said Brian Jimenez, the city's codes enforcement manager. "I know the tenants would like to stay. I know the owners would like to do repairs, but their start date isn't until this fall. But today, it is just not a sanitary condition."
Brown said he's unsure of whether Free State should ever plan to return its business to the Turnhalle building. But Brown said he is still confident that LPA will be successful in improving the condition of the building. He said the roof project, which also will include other improvements to make the building watertight, could be done by March.
At that point, he said the LPA will become more aggressive in trying to find a buyer who is willing to finish the restoration of the building and put it back to use.
"I think they need to be looking for another location," Brown said. "We've never planned on being the long-term owner for the building, so that alone has kind of put them in a state of flux."
Brown said it is unfortunate that Free State Glass has had its business unexpectedly disrupted, but he said the incident is a reminder of why LPA bought the issue in the first place.
"We bought Turnalle because we knew something like this was about to happen," Brown said of the roof failure. "Our feeling was that if we didn't step in and buy the Turnhalle, it wasn't going to be around in a couple of years. In that sense, we haven't been surprised."
Copyright 2018 The Lawrence Journal-World. All rights reserved. This material may not be published, broadcast, rewritten or redistributed. We strive to uphold our values for every story published.