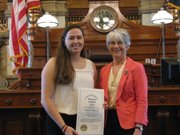 Topeka — Kelsey Kilburn, a graduate of Lawrence High School, was honored today in the Statehouse as a recipient of the prestigious Buick Achiever Scholarship for academic achievement and community involvement.
Kilburn, now a sophomore at Newman University in Wichita, will receive a $25,000 scholarship each year for four years.
"I won't have any debt," upon graduation, Kilburn said.
Kilburn is majoring in math and biochemistry and hopes to enter pharmaceutical research when she finishes school.
She was one of four Kansas students to receive the national Buick Achiever Scholarship. The others were Trina Durham, of Kansas City, Kan., Buddy Lisk, of Harveyville, and Dalton Porter, of Clyde.
Nationally, 100 scholarship winners were announced.
Buick Achievers places a strong focus on recognizing women, minorities and students know for excelling in the classroom and giving back to the community.
Copyright 2017 The Lawrence Journal-World. All rights reserved. This material may not be published, broadcast, rewritten or redistributed. We strive to uphold our values for every story published.