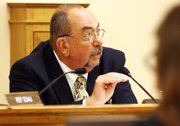 TOPEKA — Lawmakers began revamping a long-used state law on Tuesday that automatically imposes a 50-year prison sentence on some convicted murders, an effort sparked by a recent U.S. Supreme Court decision that struck down a similar law in Virginia.
The House voted 122-0 late Tuesday afternoon to approve the fix, sending the measure to the Senate which will take up the measure Wednesday. The bill was amended slightly from a version discussed last week by a special legislative committee charged with reviewing the issue.
In Kansas, the only penalties tougher than the "Hard 50" are capital punishment and life without parole, the alternative to death in a capital case and a sentence also possible for some habitual, violent sex offenders. The initial version was adopted in 1990, after lawmakers rejected the death penalty but wanted to ensure long prison sentences.
Prosecutors used the law regularly with little debate before the high court ruled in June that only a jury, not a judge, should be able to impose such a sentence in a Virginia case. That prompted Kansas' governor to call legislators into a special legislative session to adjust the state's law to try to avoid any similar legal problems.
"The goal is to get this right," Attorney General Derek Schmidt told the House Judiciary Committee on Tuesday.
Aggravating circumstances that could prompt the Hard 50 sentence include a prior felony conviction, where the defendant inflicted great bodily harm or death of another person, murder for hire, murder to avoid arrest or prosecution or the defendant intended the murder to be heinous, atrocious or cruel.
The law was originally adopted with a 40-year minimum in 1990, after lawmakers rejected an effort by then-Republican Gov. Mike Hayden to reinstate the death penalty early in his administration. But they wanted to ensure the public that such criminals wouldn't get out of prison any times soon.
The minimum was increased to 50 years in 1999, in an effort to move Kansas closer to allowing a sentence of life in prison without parole.
The death penalty was reinstated in Kansas in 1994, when Democratic Gov. Joan Finney allowed the bill to become law without her signature — but no inmates have been executed since then.
Longtime Rep. Tom Sawyer said legislators were divided over the death penalty during the Hayden years, with Democrats against the law and Republicans supporting it.
"I remember I just came in the Legislature when Hayden came in and we debated the death penalty on the third day," said Sawyer, a Wichita Democrat.
Sawyer said legislators have supported changing the law over the years, feeling that it gave some assurances to the public that the worst offenders weren't getting out of prison any time soon.
"I think it's good for the victim's families and the public knowing the defendant is going away for a long time and that they will likely die in prison instead of coming up for parole every five years," Sawyer said.
Schmidt said policymakers developed the Hard 50 law, in part, because the death penalty narrowly applied to the most heinous of crimes, such a multiple murders or killing law enforcement officers. He said the mandatory sentence gave prosecutors another tool when a 25-year sentence seems inadequate for crimes that don't meet the criteria of a capital murder.
There had been little effort to change the mandatory sentencing law before the U.S. Supreme Court's decision in June. But the attorney general noted that 16 people who were given the Hard 50 sentence are in some stage of appeal, while another 29 cases are yet to be decided at the trial court level.
Since 1990, 106 defendants have been convicted and are serving either a mandatory 40- or 50-year sentence.
Some legislators and prosecutors believe the state could apply any changes to the law to defendants who have yet to be sentenced and provide for new hearings for offenders who've appealed their sentences.
But defense attorneys doubted such efforts would succeed. That would leave defendants facing a life sentence with a mandatory sentence of 25 years before being eligible for parole, which is the minimum sentence for first-degree murder in Kansas unless prosecutors intentionally seek the 50-year minimum before parole.
Members of the Kansas Association of Criminal Defense Lawyers said the changes that Schmidt and legislators are seeking are substantive and trigger constitutional questions about the right to a fair trial and punishment.
Jessica Glendening testified Tuesday that a better fix would be to leave the Prisoner Review Board to decide if those 45 defendants still in the trial or appeal process should be set free after 25 years or remain behind bars longer.
"They're not generally eager to let someone out if there's any question about community safety," Glendening said. "The reality is these people are still going to be in custody for 50 years or longer."
Copyright 2018 The Associated Press. All rights reserved. This material may not be published, broadcast, rewritten or redistributed. We strive to uphold our values for every story published.