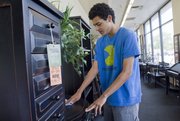 Like a lot of teenage boys, Zach Herries had a tricked-out truck, a passion for fast cars and a desire to work someplace where he could tinker under the hood.
But unlike a lot of teenage boys, Herries also has cerebral palsy, which made a few employers uncomfortable hiring him. But not Steve Bruce, owner of Steve Bruce Welding and Fabrication, which builds some of the fastest drag racing cars in the world.
For a boy like Herries who is into fast cars, Bruce said, "This is the candy store."
Through Independence Inc.'s Youth Employment Program, or YEP, Bruce provided Herries with an 80-hour work trial during which the teen gained valuable job experience, a mentor and his very first paycheck.
YEP connects 15- to 21-year-old students from Lawrence, Eudora and Baldwin who have physical, developmental or sensory disabilities to jobs. The students gain life and work skills, build confidence and earn income.
A paycheck builds self esteem
The goal is to help them take the important first step toward becoming more self sufficient.
"Some of these students have been told 'you can't' all their lives," shared Ranita Wilks, YEP employment coordinator for Independence Inc. "After you see them go out and try, and see their potential and possibilities, there is a personality change. They get their first paycheck. It builds self esteem."
As employers work with the YEP students, their attitudes toward employing people with disabilities usually changes, too, Wilks said. "A lot of people who may have had some concerns because they haven't hired a person with disabilities before, the next time they won't have the level of uncertainty and give the student a chance."
Wilks works with area high schools to identify students who would flourish in the program. She finds out what types of jobs fit the students' skills and career interests, then hunts for employers who can provide the students with enriching work trials.
The students' minimum wage salaries are paid by Independence Inc. using funds from the United Way of Douglas County. After the students complete the work trials, they are often hired by the employers or are able to find another job using the skills and experience they gained during the work trails.
Education, self sufficiency and health
YEP is having a huge impact in the lives of students and employers. Between 2008 and 2012, when the program lost its funding, 78 students were involved. In 2013, YEP was re-launched, fueled by funds from the United Way Self Sufficiency Goal. In addition, United Way connected Independence Inc. with other agencies that shared the goal of helping Douglas County residents move toward independence and financial stability.
As a result, YEP now includes a collaboration with The ARC of Douglas County, which provides advocacy and support for people with intellectual and developmental disabilities. The ARC now gives parents of YEP students the support they need to help their children succeed in the workforce.
"The United Way is working toward creating long-term change in our community by ensuring everyone in Douglas County can achieve education, self sufficiency and health. Under our self sufficiency community impact goal, we are working with partners like Independence Inc. and The ARC that share a common interest, helping them collaborate so they can serve more people and have a greater impact on the community," said Erika Dvorske, president and CEO of the United Way of Douglas County.
The ARC developed a series of classes for parents of YEP students that helps them navigate a host of critical issues, like how to access support services and protect their children's income, said Barbara Bishop, executive director of The ARC. The classes are taught by subject-matter experts and are offered free to parents because of United Way funds.
In the first few months since YEP re-launched, three students landed permanent jobs. Herries will be a freshman at the University of Central Missouri this fall. And six additional students are engaged in work trials.
"We really believe in this program – this is what independence is all about," said Stacey Hunter Schwartz, Executive Director of Independence Inc. "It's the beginning of a career ladder for the students. We want people with disabilities to become contributing, tax-paying members of our community."
Micki Chestnut is director of communications for the United Way of Douglas County.
Copyright 2018 The Lawrence Journal-World. All rights reserved. This material may not be published, broadcast, rewritten or redistributed. We strive to uphold our values for every story published.