This tucked-away West Lawrence location looks like the site of a crash: There's a broken guardrail — a wooden one, no less — pieces of debris scattered along cracked asphalt, and just for good measure, an empty Budweiser can in the middle of the pavement.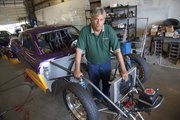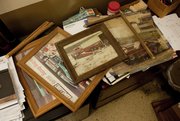 But don't wait around this scene for a police officer or anyone else to respond. It's not that type of crash site. Instead, this little quarter-mile spot just west of Wakarusa Drive is where two cultures collided a generation ago: Lawrence's white-collar growth machine and the city's once thriving blue-collar drag racing gang.
"It was a (expletive)hole, but it was a lot of good times," Tim Wudarczyk said of the quarter-mile sheet of asphalt simply known as the Lawrence Drag Strip. "We would run 300 cars through there on a Saturday night."
But those days are as gone as a new flathead Ford. Wudarczyk, who has owned Lawrence's A-1 Automotive for the past 34 years, said he made the last pass on the drag strip in October of 1986. He was driving a souped-up Rambler, of all things. An odd drag racing car, but perhaps fitting, because these days drag racing and Lawrence are a hard pairing to picture.
"It was kind of just all of a sudden" Wudarczyk recalled about the end of days for the drag strip. "The developers came and it just went away."
A clash of cultures, and the big wheels of a dragster stood little chance against the big wheels of Lawrence.
•••
You have to admit, it would be pretty cool to have a Lawrence street named "Drag Strip Road." There still are a few Lawrence residents who remember the days when the city basically did.
The gravel road just on the outskirts of the western edge of the city was almost universally known throughout the county as Drag Strip Road, which made sense because you had to take the road to get to the near-weekly races.
Now we know it by another name: Wakarusa Drive, the main thoroughfare for the office parks and suburbia that make up West Lawrence.
"As soon as the area got annexed into the city, one of the first things out of the city commissioners' mouths was, 'We have to do something about the problem of the drag strip,'" Wudarczyk recalled. "We were like, what problem?"
There's no question who won the debate, although it has not yet been a complete victory for development. The drag strip is still visible, if you know where to look. Its eastern end is behind Kansas University's Wakarusa Research Facility in the 1300 block of Wakarusa. Nice West Lawrence homes sit near the drag strip's western end. Research Park Drive bisects the decaying stretch of asphalt. As the economy improves and development picks back up in coming years, all signs of the drag strip are likely to be lost.
Wudarczyk understands that. Racing is noisy, and old-time drag strips are falling by the wayside in lots of places, although somehow Manhattan has managed to hang onto its raceway. But what Wudarczyk has a harder time understanding is why city leaders wouldn't at least tip their hats to what a group of gearheads and guys with grease under their fingernails had built, part of the city's legacy.
"For a long time, Lawrence was an island for hot rodders," Wudarczyk said. "We used to draw folks in here from a 130-mile radius, easy.
"But when it came into the city, they wouldn't even name the street Drag Strip Road. It was a part of our culture, but I'm not sure many people know that anymore."
•••
You can't blame Wudarczyk for being a little bitter about that. If the city had a street named Drag Strip Road, surely he would have a lot more natural opportunities to tell some great stories.
Like when as a 16-year old he lied to his mom and said he was going to the lake — and instead drove from Hays to Manhattan to race. It was a good plan until he won $500 and had to have his mom's help to cash the check.
She cashed it, but not before giving a warning. "You know," she said, "it is going to really hurt when you hit something going fast."
He could tell the story about having to admit to her that she was right. That involved a 1998 crash at Topeka's Heartland Park. He put his 1,078-horsepower Pontiac Firebird into not one, but two walls at 160 miles per hour. He said he had three thoughts in rapid succession during the accident: 1. The guy in the next lane is going to hit him in the cockpit and take off his legs. 2. When that didn't happen because his opponent's car began cartwheeling down the track, he believed the other car was going to land on top of him and catch them both on fire. 3. And then, of course, there was the other wall he was hurtling toward, with a throttle stuck wide open.
"I thought I was going to hit the wall and die," he said. "All I could think is: 'Don't let them see this.' My wife and son were sitting in the trailer in the garage area."
Wudarczyk hit the wall, but he walked away, hurting in places he said he didn't know he had. The next morning, before his mother could read the newspaper, he called her. He told her she was right. It hurt.
But not enough to stop Wudarczyk, now 58, from traveling the country and racing for many more years. There is a thrill to the racing, the speed, he says. But describing that thrill is one story he can't tell, at least not in most circles.
"I could describe the thrill to you, but you couldn't print it," he told me.
He's right. I can't print it and its language and keep my job. Let's just say he finds it awfully exciting.
•••
Lawrence Drag Strip had its share of excitement as well. Like the night a whole bunch of cops showed up. At first, a single deputy came by, saying there had been a report of a plane crash in the area. No, it was just a blown motor that shot a little fire into the air. But then, another deputy arrived, followed by several police officers.
"There wasn't a problem," Wudarczyk said. "They just decided they wanted to watch some racing."
There used to be quite a few people who wanted to watch it, and quite a few who wanted to do it, said Don Baxter, who once owned Lawrence's nationally-renowned Don's Speed Shop and is considered the granddaddy of Lawrence drag racing.
Baxter and a Lawrence High auto shop teacher, Bill Prince, were part of the group that started the drag strip in the 1950s. It seemed like a natural thing to do.
"Racing is all I dreamed about while I was in the service," said Baxter, who now is in his 80s. "I just always liked hot rods, and there were quite a few guys who liked the same thing."
But apparently, those guys weren't in the Lawrence halls of power in the 1980s, when the track closed.
"I guess it just didn't fit with the image of the city," Baxter said of why the track was shut down.
Maybe that's so. After all, Lawrence builds its reputation on the science and scholarship that happens on the top of a hill; not on the speed and swagger that happens on a quarter-mile flat stretch of ground.
An inevitable clash of cultures, or so it seemed.
But it's funny how things work out. Even though the drag strip was gone, Wudarczyk stayed in drag racing. He focused on his son's driving career, which began at age 12 with junior dragsters.
The junior dragster program gave college scholarships to its top performers, which always seemed odd to Wudarczyk.
"Then somebody told me it is because these companies know these little gearheads are going to become their next engineers," Wudarczyk said.
Sure enough, Wudarczyk's son used drag racing to immerse himself in math and science.
"For my generation, this sport was all about hauling ass," Wudarczyk said. "For his, it is all about the science of it."
Wudarczyk's son, Tyler, now 27, is a mechanical engineer for a manufacturing and design firm — and he's still racing.
Maybe the cultures weren't that different after all. But that should come as no surprise. Throughout history there are plenty of signs of cultures misunderstanding each other.
In West Lawrence, where Drag Strip Road used to be, they read: Wakarusa Drive.
— Each Sunday, Lawhorn's Lawrence focuses on the people, places or past of Lawrence and the surrounding area. If you have a story idea, send it to Chad at clawhorn@ljworld.com.
Copyright 2018 The Lawrence Journal-World. All rights reserved. This material may not be published, broadcast, rewritten or redistributed. We strive to uphold our values for every story published.