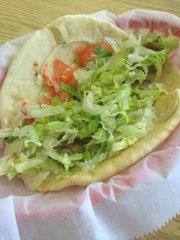 While it's hard to walk into a Mediterranean hub and not indulge your falafel craving, the other (less pronounceable) dishes are just as satisfying. including the kufta kabob, the Mediterranean meatloaf. Made from a ground mix of seasoned lamb, beef and onions, the kabob is grilled and served on a bed of rice, along with a salad and warm pita. Like many other menu items, the kufta kabob is also served as a sandwich, a warm pita wrapping the meat with lettuce, tomato, onion and a sour, cool and creamy cucumber sauce. This particular location is a small cafe of eight tables amidst a convenience store where you can purchase Greek items to make your own dishes.
Where to get it: Mediterranean Market and Cafe, 3300 Bob Billings Parkway
What you'll pay: $6.99 for the sandwich; 13.99 on bed of rice.
Try it with: Baklava for dessert. For $3.99, you have the choice between layers of sweet pastry filled with with pistachio or walnuts.
Also on the menu: A series of curries, kabobs, shawarma, and falafel options, as well as less recognizable Mediterranean dishes like moussaka, an eggplant and potato based dish (vegetarian or with ground beef) served with rice. Try the combination platter if you're in the mood for everything, and enjoy a spinach pie, gyros or falafel, grape leaves, hummus and rice.
Copyright 2018 The Lawrence Journal-World. All rights reserved. This material may not be published, broadcast, rewritten or redistributed. We strive to uphold our values for every story published.