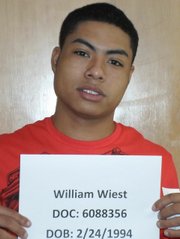 A 19-year-old Shawnee man was booked into Douglas County Jail over the weekend on suspicion of possessing and distributing methamphetamine, marijuana possession, transporting an open container and resisting arrest.
William James Wiest was arrested early Sunday morning by Lawrence police in the 1800 block of East 1450 Road and appeared in Douglas County District Court on Wednesday. He is in Douglas County Jail on a $4,000 bond.
Listed by the state's corrections department as a parole absconder, Wiest has previous convictions in Miami and Bourbon counties dating to 2011. In January, Wiest was sentenced in Bourbon County after evading a road block, reckless driving, and attempting to elude capture after being involved in a crash in June 2011. He was also sentenced for a June 2012 obstruction violation.
Also in 2012, Wiest was convicted of drug distribution in Miami County.
Possessing methamphetamine is a felony offense and, if convicted, Wiest could face up to three and a half years in prison. Wiest also faces a felony charge for possessing as a dealer or distributing methamphetamine without a tax stamp as required by state law — a violation that could carry the possibility of an additional one-year prison sentence.
Although dealing controlled substances is illegal, state law requires drug dealers to purchase "drug tax stamps" from the Department of Revenue, which can be purchased without sharing a name or address and are valid for three months.
Wiest is scheduled for a preliminary hearing on Nov. 20.
Copyright 2018 The Lawrence Journal-World. All rights reserved. This material may not be published, broadcast, rewritten or redistributed. We strive to uphold our values for every story published.