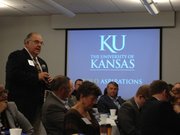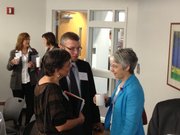 Kansas City, Kan. — Top Kansas University administrators on Wednesday tried to make the case for state funding, but they faced some critical questions from legislators who have already cut higher education funding.
"We are doing the best job that we can" in being efficient and bringing more federal research and donor dollars to KU, Chancellor Bernadette Gray-Little said.
Talking to a room packed with dozens of legislators at the KU Medical Center, Gray-Little said every dollar the state invests in the university "is a good investment" and that state support was crucial to the school.
"I believe … the state of Kansas is better off, the higher quality the University of Kansas is," she said. She was joined by Provost Jeff Vitter; Dr. Doug Girod, executive vice chancellor of KU Med Center; and LaVerne Epp, executive chairman of the Bioscience and Technology Business Center.
But during a more than two-hour question and answer session, several legislators expressed concern over whether KU was doing a good enough job at tightening its belt while also leveraging money from scientific and technical research breakthroughs.
Kansas Board of Regents Vice Chairman Kenny Wilk said the give-and-take between legislators and higher education administrators has been helpful.
"We have listened and we have learned. It has been good for us," Wilk said.
Legislative leaders and members of the House and Senate budget-writing committees embarked on a tour of all public university campuses over the past two weeks, in addition to a community college and technical school.
The visits come on the heels of a bruising legislative session for higher education where conservative Republican leaders pushed through $34.3 million in cuts to the schools, while most states were increasing post-secondary funding.
Gov. Sam Brownback, also a Republican, signed the Kansas cuts into law, but has vowed to try to restore the lost funds. His chief of staff, Landon Fulmer, attended the session at KU Med.
But Senate President Susan Wagle, R-Wichita, and House Speaker Ray Merrick, R-Stilwell, said it was too early to say what the legislative position should be on higher education funding for the next session, which starts in January.
Wagle, however, said the campus tour has improved communication. "Both sides have a better understanding of the challenges we both face," she said.
Some had suggested that the meetings were designed to collect evidence to justify more cuts.
But Merrick said that wasn't true. "This was not a witch hunt. We are not looking to play gotcha," he said.
Several legislators, however expressed concerns about KU.
State Sen. Tom Arpke, R-Salina, noted that KU's enrollment has decreased approximately 10 percent over the past decade.
"That is telling me that families in Kansas are choosing different institutions in Kansas or going out of state," Arpke said.
And he said KU has many more employees on its Lawrence campus than Kansas State University has in Manhattan.
KU officials said that the incoming freshman class this fall represented a 14 percent increase. Vitter said the difference in the number of unclassified employees with K-State may be because of KU's increasing research dollars.
Sen. Jeff Melcher, R-Leawood, said KU should be recouping more funds in the marketplace from its research.
"We probably don't get near the benefit that we should," Melcher said.
Vitter agreed, but said KU was making huge efforts to make money from its research. "We have a long way to go, you are absolutely right, but we are going in the right direction," he said.
State Rep. Jerry Lunn, R-Overland Park, warned that if the state loses a public school finance lawsuit before the Kansas Supreme Court, the monetary award will cause significant cuts in other areas of the state budget. Plaintiff school districts are seeking upwards of $500 million in state funding.
"You will take some serious pain," Lunn said. "I don't know how you get around it."
Gray-Little said higher education faces funding challenges on many fronts, including the state and federal level.
Legislators asked questions for more than two hours.
Sen. Ty Masterson, R-Andover, and chairman of the Ways and Means Committee, said legislators have to balance many requests for funding and decide how much in taxes to take from their constituents.
Later, the legislators boarded a bus for Lawrence to visit the Bioscience and Technology Business Center and the School of Pharmacy.
About a dozen members of KU Young Democrats carried signs outside the BTBC protesting high tuition increases, which they said were caused by Brownback's income tax cuts.
"We shouldn't shoulder that burden," said Ben Cohen, who graduated from KU in the spring.
State Sen. Laura Kelly, of Topeka, and the ranking Democrat on the Ways and Means Committee, agreed that Brownback's income tax cuts and proposal to eliminate state income taxes altogether will cause serious budget shortfalls.
Copyright 2018 The Lawrence Journal-World. All rights reserved. This material may not be published, broadcast, rewritten or redistributed. We strive to uphold our values for every story published.