After Grover Sanders' wife of 58 years died in 2005, he became, like many widowers, extremely lonely. So he did something about it.
Sanders placed a classified ad in the Journal-World seeking lunch companions at First Watch. When he showed up at the restaurant on the date in question, he was surprised to see that other people did, too. The lunch group went on to meet for the next six years.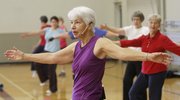 "After my wife died, I started doing things I would have never done before," said Sanders, 92, a Navy veteran and retired aviation employee who lives in Lawrence.
He approached strangers in gift shops and grocery stores. He wore a hat that he put different sayings on. He would often make the first word biggest so people would have to get closer to read the whole phrase. One of his favorite sayings: "There are no strangers in the world, only others waiting to be spoken to."
"If you smile, people will smile back," said Sanders, who is getting ready to move into a local retirement community. "The human race is strange: They want to socialize but they don't want to break the ice."
Sanders found success grappling with an issue facing many seniors — how to stay active and engaged in the community in old age. Thankfully the Lawrence area has a variety of programs and activities for retirees, from fitness classes to trips overseas.
"As people age, getting out into a social setting, walking, shopping and volunteering are important to mental and physical health," said Laura Bennetts, co-chair of the Douglas County Coalition on Aging.
The Lawrence Public Library, for instance, hosts computer classes, cookbook discussions and skill-builder workshops, which touch on everything from managing your finances to maintaining your car. The library also does book talks, takes its "bookmobile" to local retirement communities and operates a book delivery service for residents who are unable to travel.
The Lawrence Parks and Recreation Department, meanwhile, offers courses for seniors focusing on such fitness routines as yoga, martial arts, Pilates and Zumba. Roughly 200 seniors can be found at the Holcom Park Recreation Center on any given Monday, Wednesday or Friday when the classes are in session.
In addition, the Lawrence Senior Center has both formal and informal programming for older residents. A group of men plays pool at the center three times a week, while anyone is invited to stop by for coffee or to read the newspaper in the morning. More formal activities organized by the center include Spanish classes, arts and crafts, national and international trips, tours of local businesses and educational and health seminars. A call-ahead transportation service is available to drive Lawrence residents to and from the center for $3 each way.
"It's our mission to keep seniors in the community as active and independent as they can be," said Rebecca Clancy, leisure and learning specialist for Douglas County Senior Services. "Activities are a great way for them to connect socially."
Local residents often create their own social clubs, gathering at local coffee shops at places like the Merc, Hy-Vee and Munchers Bakery. Seniors who live at Babcock Place Apartments have organized their own yoga and creative writing groups.
Getting around is key
Lack of transportation is often a barrier for older residents who want to attend these types of programs. Seniors who don't drive might not live near a bus stop or might be unable to give the advance notice required to use some of the transit services in town.
"I think Lawrence really has some great opportunities for older adults to remain engaged, but I think our biggest challenge around that is transportation," said Mitzi McFatrich, executive director of Lawrence-based Kansas Advocates for Better Care. "Transportation is never enough in terms of people's needs or desires to go places. So I think communities have to figure out ways that work for them that are sustainable for them."
Possible solutions include a subscription transportation service and more retirement communities either providing transportation or building near existing transit lines.
While the First Watch lunch group disbanded after the restaurant closed temporarily, Sanders still keeps active in other ways. He exercises at Fit for Life and tries to volunteer and do good deeds for strangers whenever he can.
"I really feel like at my age if I'm not doing something to help other people I shouldn't be taking up space on this earth," he said, before adding some more words of wisdom gleaned from his more than nine decades on this planet: "If you don't move, your body is going to quit moving as well."
Copyright 2018 The Lawrence Journal-World. All rights reserved. This material may not be published, broadcast, rewritten or redistributed. We strive to uphold our values for every story published.