Photo Gallery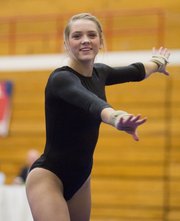 State gymnastics meet
Olathe — Every pair of eyes in the Olathe North High gymnasium focused on Free State's gymnasts Saturday evening, and the Firebirds, though worried, gave them a show.
The other 12 gymnastics teams at the state meet had already finished for the day by the time FSHS finally was called over to the beam. Considering gymnasts Grace Bartle, Haley Johnson, Carrie Howland, Hannah Moran and Brooklyn Hayes knew they still had a realistic shot at the championship, the stage and the stakes seemed daunting.
"It's so scary," Bartle, a junior, said of having the spotlight squarely on them.
Her performance, as well as those of her teammates during the final routine, contradicted that statement. Bartle, the last to perform, won her second gold medal of the meet with a 9.175, and Moran, Johnson and Howland all scored 8.45 or better, allowing the Firebirds to finish their season as state champions — beating runner-up Olathe Northwest by 1.275 points.
"It was just amazing," Bartle said after she and her teammates hugged, cried and posed for photos with the program's third state-title plaque and second in three years. "I had a new scale (for her beam routine), and I hit it perfectly, so I was really excited about that. And I ended up winning beam. Never would I have ever thought that. Never."
First-year Free State coach Brooke Kissinger had goose bumps by the end of it all and said she and the gymnasts didn't know for sure what it would take on the beam to win the title, because meet officials didn't post the point totals for each team's final event of the day.
"I was nervous," she said afterward. "There's no reason not to be."
Adding to the Firebirds' worries, Bartle said, was the event that loomed.
"We hate ending on beam," said Bartle, who also won an individual championship with her floor routine. "We despise it."
Kissinger felt a little more optimistic: "I knew that we could stick it."
The gymnasts gathered with their coach before hopping up on the dreaded beam and calculated they needed to average 8.2 with their top scorers to win. Moran, a senior, jump-started their efforts with an 8.575.
"That's one off the list," she thought to herself after completing her turn. "I really didn't want to regret my last piece of gymnastics I would ever do. It's really nice to have a solid last routine."
When Johnson followed Moran with an 8.5, Kissinger thought: "All right. We've got this."
The Firebirds recovered from some early disappointments to win it all, and their coach praised their morale throughout a long day.
Said Moran: "It didn't start out as a great meet. We like to go last on floor. That's our favorite event, that's our best event. We like getting all hyped up."
In an abnormality, Howland fell during her floor routine (8.625), but Moran said the way her teammates rallied salvaged the day.
"Grace, of course, pulled out a fabulous routine (9.475)," Moran said. "Haley pulled out a fabulous routine (8.65). I had an OK routine (8.4)."
Moran, Bartle and Johnson also contributed to the Firebirds' 2011 state championship. After FSHS lost 2013 graduates Jackie Zaitz and Annie Soderberg, Moran said, she didn't know if Free State, last year's state runner-up, would be able to return to the top.
"I'm so impressed that we were still able to win it this year," she said.
Lawrence, also coached by Kissinger, finished ninth in the team standings at state. Allison Williams led the Lions with an 8.275 on the floor, Jordyn Leon had a team-best 7.675 on bars, Williams led the way on the beam with 8.425, and Ashley Ammann scored 8.5 on the vault.
Copyright 2018 The Lawrence Journal-World. All rights reserved. This material may not be published, broadcast, rewritten or redistributed. We strive to uphold our values for every story published.