Photo Gallery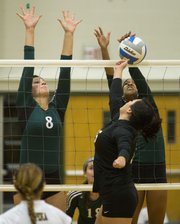 Free State volleyball vs. Topeka High
During Free State High volleyball practices, coach Nancy Hopkins likes to use as many different lineups as she can, so every player gets a chance to feel comfortable playing next to each of her teammates.
"We have two or three people who can play in each position," Hopkins said. "I like to have options."
That flexibility worked in the Firebirds' favor Tuesday night, when the coach started all five seniors — Sami Boden, Brooke Glasnapp, Emilee Kern, Morgan Knapp and Grace Miller — and their on-court harmony helped FSHS dispose of Topeka, 25-9, 25-20, to finish the home triangular, which began with a 25-13, 25-18 loss to Blue Valley West.
Said Miller: "It definitely was a better way to end Senior Night than how we started off."
BVW, ranked No. 2 in Class 6A by the Kansas Volleyball Association, handled Free State in the first match of the night. Knapp said that led to a serious talk before the Firebirds (13-21) returned to the floor to face Topeka. Among other things, they discussed how good they are capable of playing and why they don't always live up to their potential.
"I think the whole Senior Night thing got to us," Knapp said. "Like, this is the last time we'll be playing at home for the rest of our lives. We're done. This is it. So we might as well have fun and leave it all on the court."
The five seniors started the second match of the tri with freshman Emma Barberena, and it didn't take long for Free State to build a sizable cushion, as Knapp scored with a block, Kern set up Knapp for a kill, Barberena served a pair of aces and Miller began swatting kills off passes from Kern and Glasnapp.
Knapp said they had never used that particular combination of players together in a match.
"So it was just fun for everyone to mesh and for all the seniors play together," Knapp said, "because that's the last time we'll ever all play together as that lineup."
Without much resistance from Topeka, Miller tallied 12 kills and Knapp put away five more. Junior Gabbi Dabney and freshman Naomi Hickman recorded kills, too.
"When we get really good passes," Hopkins said, "we get hits like that. In that first (match, against BVW) we didn't pass it very well, and it just snowballed from there."
Another lineup tweak benefited FSHS, as well. Hopkins sent middle blocker Glasnapp to the right side, and she made plays throughout the first game against Topeka.
"Who knew she could set like that? She put up a couple of really nice sets and Grace just pounded them," the coach said.
On a number of occasions, Miller added, Glasnapp dove to keep points alive and impressed the crowd with a couple of key digs.
"She always plays with heart," Miller said of Glasnapp, "so I think when somebody does that, they're always going to get that stuff up, because they're not gonna let it drop in front of them. She tries really hard."
Though Glasnapp typically helps FSHS off the bench, Knapp said she fit in perfectly with the five-senior lineup: "She made us want her to start front row again, because she was really good."
The Firebirds close the regular season at 6 p.m. Thursday on the road, with the City Showdown against rival Lawrence High.
Copyright 2018 The Lawrence Journal-World. All rights reserved. This material may not be published, broadcast, rewritten or redistributed. We strive to uphold our values for every story published.