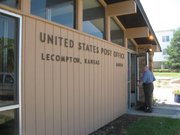 Down the road from where Paul Bahnmaier works — at the Territorial Capital Museum, once the state Capitol-to-be — sits the subject of much distress for him and others in historic Lecompton.
It's the local United States Post Office, whose full-time retail hours were slashed earlier this year, now down to 21 and a half hours per week, with every weekday given just four hours in the morning. This has put Bahnmaier, the president of the Lecompton Historical Society, and the city government on their toes, fearful that it's a warning sign of the office boarding up one day — although the United States Postal Service has said it has no such plans.
The Lecompton residents' concerns, warranted or otherwise, range from practical to existential. They worry about the window hours affecting working residents with P.O. boxes who may need to retrieve any mail that is time sensitive, in a large envelope or is Certified Mail. City Clerk Lynley Sanford said the changes may also be responsible for an increase in delayed and inconsistent mail delivery.
But city officials and others are also unsettled at the idea of losing their zip code, a particularly devastating thought given the area's significance.
Lecompton, the former capital of the Kansas Territory, is the site of Constitution Hall, wherein legislation drafted in 1857 to render Kansas a slave state as it entered the Union provoked such a national dialogue that it was referenced in the Lincoln-Douglas Debates.
Losing the post office and zip code could mean "Lecompton" would no longer be acceptable for use as part of a mailing address. If such a scenario were to occur, mail being sent to Lecompton would probably have to be addressed to Perry instead.
The thought of losing something to nearby Perry is a familiar one. In 1970, Lecompton's high school closed and its students began attending school in the town three miles north. Two of Lecompton's mail carriers have already been relocated to Perry as well.
"We have thousands and thousands of visitors to Lecompton every year," Mayor Sandra Jacquot said. "That's an identity issue and that's something we're going to fight until we can't fight anymore."
The post office announced in May 2012 a cost-saving strategy of modifying window hours, which would return the organization to financial stability without closing the smallest post offices, Richard Watkins, a post office spokesman, said in an email. Lecompton's was one of 13,000 chosen because, Watkins said, its workload did not justify full-time hours.
Once implementation of the strategy is completed in September 2014, the postal service expects to save half a billion dollars annually, according to Watkins.
But community members have largely balked at the idea since they first heard the news at a public meeting in November 2012, citing evidence of the area's growth and its storied past. Since then, Lecompton officials have worked to keep their office as far away from closing down as possible, beginning a back-and-forth affair with the post office to get more detailed information about why their office was selected for shorter hours.
City officials have filed three Freedom of Information Act requests and invited a postal official to participate in a question-and-answer community meeting. Neither tactic has gleaned satisfying results for Bahnmaier, Jacquot or the city council, which unanimously agreed that the city should continue chasing down answers in an early October meeting.
In their FOIA responses, postal officials cited various exemptions to opens records law to justify redaction of revenue figures from years past and said they had no obligation to answer lingering questions from the November 2012 meeting. However, net revenue numbers for 2012, $17,539, were eventually volunteered in a January letter from postal officials to U.S. Sen. Jerry Moran.
That profitability only adds to the incredulity in Lecompton.
"It doesn't make sense," Bahnmaier said. "This [post office is] not dying."
Ultimately, Jacquot said she is optimistic about maintaining the level of service the local post office currently offers. Nevertheless, she said, she can't help but feel a sense of impending doom.
For now, Jacquot and her cohorts are regrouping, trying to identify other avenues to make their case and put their worries behind them.
"I don't know how we could take it any other way," she said. "We're just going to have to keep at it until they say, "We are so tired of hearing from Lecompton, let's just increase their hours or leave them alone.' "
Copyright 2018 The Lawrence Journal-World. All rights reserved. This material may not be published, broadcast, rewritten or redistributed. We strive to uphold our values for every story published.