"You cannot rewind today," Lesley Mutuku said with a smile as she sat with her two loving daughters, Ruth and Grace, on a park bench on a sunny April day.
At age 34, the mother of two young girls was diagnosed with breast cancer in 2006. Today, she is healed in her own eyes and radiates positivity to those who come in contact with her. For Mutuku, her diagnosis was never something she let get her down. Instead, she instilled her faith and positivity to fight a battle that her doctors, unbeknownst to her, weren't sure she could win.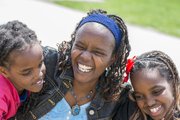 About this series
This is the last in a series of stories about survivors of cancer provided by Lawrence Memorial Hospital's Endowment Association. These survivors' stories and photographs hang in the hallway leading to LMH's Oncology Center. These stories offer hope to patients being cared for at LMH Oncology and their families.
Mutuku's journey began in May 2006, when she felt a lump in her breast while showering. Mutuku talked to her husband, Boniface, and they waited a few days to see if anything changed. When Friday rolled around and nothing had changed, Mutuku met with her OB-GYN. She thought, "What if it's cancer? What if it's something serious?" She thought to herself that she's not even 40 and cancer is for older people.
She was driving to the hospital to meet her husband for their appointment.
"I was on Michigan Street and I felt a flood of peace," she said. "Peace was falling over my head."
When she and her husband got into Dr. McGinness' office, she quickly explained that it was cancer.
Mutuku just replied, "OK."
Then her immediate instinct was to ask how they would be able to afford this type of treatment. Boniface quickly reassured her and said, "Don't worry honey, it will be OK. Let's just take care of getting you well." As terms such as chemotherapy, radiation and mastectomy flooded her ears, all Mutuku could think was that she wanted her mom. "I can do this," she said. "I just need someone to help take care of my girls."
The next week was a whirlwind of what Mutuku likes to refer to as "information highway." Doctor appointments, tests, information, having blood drawn and more tests. Every single day she had to get something checked out, and soon it had been a week and it was time for her surgery. She had her doubts about wanting to go through all of that, but she was at peace.
"I thought I might have to go through the muddy waters of chemotherapy and radiation, but I believed I would be healed," she said. Mutuku chose to have only a mastectomy on the breast that had the lump and opted for reconstructive surgery with Dr. Scott Thellman on the same day.
Mutuku made it through surgery in July and then started chemotherapy six weeks later in mid-August. She was hoping to be finished by Thanksgiving, but November rolled around and she had a minor setback with a cold. She had to be admitted into the hospital.
"That derailed me a little bit," she said. "I didn't like that."
At that time, Mutuku recalled how she felt that the people around her thought she might die, but she never thought that, she recounts while laughing.
"I never thought that this could kill me. Even now, I think 'yeah, that could have killed me.'" But it was her faith and prayers that got her through. "They say chemo kills you before it gives you life," she said. "I felt like I can do this, God is with me."
Mutuku finished her chemotherapy by the end of December and began 33 radiation treatments in January followed by a regimen of Tamoxifen. She went to LMH Oncology Center every weekday. As soon as she started radiation, she decided she was going to start exercising.
"I knew I could do this — it wasn't going to get me down," she said. With her mom still by her side, along with her husband, she had plenty of help with her girls. Mutuku remembers everyone rallying around her, giving her rides to treatment.
"It's good to let other people help you," she said. "I had to let my guard down and let people cook and do laundry for me."
During her journey, Mutuku has learned a lot and to greater appreciate people. She still keeps in touch with some of the people she met during treatment; only now she prefers to see them outside of the hospital walls.
"It was a hard journey, but it is over. It's a good journey. It teaches you life. It teaches you to appreciate every day," she said.
Dr. Sharon Soule suggested Mutuku take another medication after Tamoxifen and Mutuku said she didn't want to. Then she asked what the original treatment plan was. Dr. Soule replied, "There was no original plan because your chances were not very high. There wasn't a next step."
Mutuku feels as if God has given her another chance at life and fostered the ability to encourage others. She lives life to the fullest and when asked if she is in remission, she replies with laughter, "I'm healed, but not in remission. Cancer, you are not welcome in my life. Goodbye."
Copyright 2018 The Lawrence Journal-World. All rights reserved. This material may not be published, broadcast, rewritten or redistributed. We strive to uphold our values for every story published.