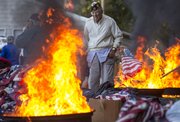 Every flag is inspected.
On this day that means about 4,000 of them. They are in cardboard boxes stacked upon each other in a scenic little slice of western Douglas County. A few feet away are old tractor tire rims filled with wood and flames growing higher and higher.
This is what a flag funeral looks like, in case you are wondering.
America's enduring symbol will go into the flames by the thousands soon enough. But not before each one is inspected.
Sometimes that involves unfolding them. Some of the people who dropped off the flags at American Legion posts across eastern Kansas took the time to fold them in ceremonial fashion — all 13 crisp and precise folds. Even some of the handheld flags, the kind on a wooden stick that are just a few inches in size, were folded as if they had been handled by an honor guard.
Each flag gets unfolded and looked at by the volunteers here because . . . well, the flag always deserves your attention. That, and sometimes they come with a note. And a note in a flag is almost always interesting. The volunteers here on this Sunday morning remember the note that was found last year.
"I tell you," said Ron Griffin, commander of Lawrence's Dorsey-Liberty American Legion Post No. 14, "we all got a little bit teared up on that one."
•••
There are at least two large flag burning ceremonies in eastern Kansas each year. The Lawrence American Legion Posts holds one in rural Douglas County on the grounds of the Fraternal Order of Police lodge, and one is held in Garnett. Flags from Wyandotte County in the north to Bourbon in the south are brought to the ceremony. They largely are collected from the drop boxes that exist at almost every American Legion post, including the one near Sixth and Kasold in Lawrence.
"It is great that people are flying a flag, but it is disrespectful to fly one that is not in good shape," said Tim Russell, a Baldwin City resident and commander of the American Legion's 2nd District.
Based on the number of flags that showed up at this ceremony, lots of people understand the sentiment. American Legion officials weren't surprised. They said they've seen a definite uptick in patriotism, perhaps because American soldiers have been sent off to multiple conflicts around the world in recent years.
"The flag still means something," said Emery McKimmy, the state's vice commander for the American Legion.
Russell, though, said he still sees a significant number of flags that fly in poor condition. Some Lawrence American Legion members have taken it upon themselves to mention flag etiquette to area businesses that fly tattered flags. The Legion sells flags or can find a way to replace a flag if somebody can't afford to do so.
Legion members said most businesses are happy to replace the flag. Figuring out what to do with the old one is the tricky part. They knew it shouldn't go in the Dumpster to lay next to the trash. Many know that burning is considered the proper way to retire a flag, but where that service is provided isn't well known.
That was the gist of the letter that volunteers found inside a flag last year. The writer, she signed her name Bev, thanked the Legion for providing the service. For the longest time she didn't know where to take her flags that had become worn. Now she knew, and she was grateful. It was a simple thank you note — until the last sentence.
"I flew these flags at our home after my husband was killed in Afghanistan in 2010."
That's when the eyes of several men around the fire — veterans of war, veterans of combat — started to get a little moist.
Yes, the flag still means something.
•••
About 30 volunteers participated in this recent ceremony. There were those like Don Weiss, a 22-year Navy veteran who sees flags in a way most of us never will. He's a member of the local honor guard that does flag presentation ceremonies at veterans' funerals. Anymore, he often does multiple ceremonies per week.
"People always thank us for this," Weiss said of the work. "But I tell them it is our honor to do this. I really do mean that."
There are younger volunteers too, some just teenagers who are members of the Civilian Air Patrol.
"It teaches a lot of respect," said Capt. Timothy Thornton, who oversees the dozen or so area youth in the air patrol. "It is a good reminder that there are some things that are important enough to have a ceremony over."
As for the ceremony, there is a brief moment of formality with all this. At 10 a.m. a handful of leaders in the American Legion took their places in straight lines and displayed the colors of the various military branches.
A single, tattered American flag was presented to the group to represent the thousands of flags that sat in cardboard boxes just a few feet away. The flag was formally handed — with salutes and proclamations — to three different members of the group to inspect. All three declared that the flags had become "unserviceable in a worthy cause."
There was a prayer and a moment of silence, but the most stirring part of the ceremony was some of the final words by the commander overseeing the proceedings. They're the same at every American Legion flag retirement ceremony:
"A flag may be a flimsy bit of printed gauze or a beautiful banner of finest silk. Its intrinsic value may be trifling or great; but its real value is beyond price, for it is a precious symbol of all that we and our comrades have worked for and lived for, and died for — a free nation of free men and women, true to the faith of the past, devoted to the ideals and practice of justice, freedom and democracy."
Then, the flag went into the flames to be consumed. The thousands that followed were burnt in a slightly more efficient fashion. Volunteers quickly looked at each flag, placed one or two on the end of a charred wooden pole held by another volunteer. Volunteers, taking some care to not let the flags touch the ground, walked them to the flames.
Simple, really. Nothing fancy or too ceremonial about it. And that was fine. The beauty of the flag, after all, isn't in its eloquence, but rather in the simple emotion it brings out in us: Pride.
That really was the message of that handwritten note, which legion members keep framed at the Lawrence post. Bev, the writer, signed it: "the proud wife of Sgt. Robert W. Crow Jr."
I found the obituary of Sgt. Crow. He was 42 when he died after his vehicle struck an improvised explosive device. In addition to his wife, he left behind six children.
And a flag, flying above his home. Both the soldier and the flag have done their duty now. They made us proud.
— Each Sunday, Lawhorn's Lawrence focuses on the people, places or past of Lawrence and the surrounding area. If you have a story idea, send it to Chad at clawhorn@ljworld.com.
Copyright 2018 The Lawrence Journal-World. All rights reserved. This material may not be published, broadcast, rewritten or redistributed. We strive to uphold our values for every story published.