Photo Gallery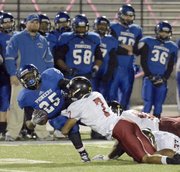 Lawrence High football at Leavenworth
Leavenworth — Leavenworth High's football players might as well have planted a flag with their "LV" logo on it in Lawrence's backfield Friday night at Pioneer Stadium.
The Leavenworth defense conquered the Lions' blocking often enough to take up residence behind the line of scrimmage and make life miserable for quarterback Nyle Anderson and the rest of the Lawrence offense as the Pioneers opened district play with a 16-8 home victory.
With Leavenworth senior linebacker Jordan Donnelson leading the annexation, the Pioneers (3-4) sacked Anderson seven times and forced Lawrence to move in the opposite direction from the end zone 13 times.
Senior center Kyle Wittman said the Lions couldn't handle Leavenworth's blitzing schemes.
"They brought a lot of people off the edge," Wittman said. "They were real fast, real tough. That's a tough team."
The Pioneers established as much from the game's opening minutes, and Lawrence coach Dirk Wedd said his team's inability to adjust made it nearly impossible at times to sustain meaningful drives.
"We've gotta win up front, offensively, for us to be successful, and they were beating us up front," Wedd said. "That makes it a really tough game to call and try to weasel a yard here, weasel a yard there."
On Leavenworth's second offensive series of the game, the Pioneers went 83 yards in less than two minutes thanks to two plays of 30-plus yards by junior Pioneers running back Isaiah Ross, who delivered a 36-yard catch and a 35-yard run. The Sunflower League's leading rusher entering Week 7, senior running back Jason Randall, capped the drive with a five-yard rushing touchdown with 4:12 left in the first quarter.
Next came Lawrence's worst four-play stretch of a game in which it netted just 170 yards of total offense. The Pioneers brought Anderson down in the backfield on first and second down, then tackled Tucker Sutter for a four-yard loss on a pass from Anderson.
The drive went from no-good to dreadful on the Lions' fourth-down punt play. Drew Green, a running back and punter, was rolling out by design for the kick, but Leavenworth blew through the Lions' blocks and tracked Green down. If he would have tried to punt it, Green said after the game, the Pioneers could have blocked the football and recovered it in the end zone. So Green tried to outrun them, but got taken down for a 10-yard loss.
Leavenworth took over at Lawrence's 12-yard line, and three plays later, Ross took a five-yard carry to the end zone to put the Lions in a 13-0 hole less than 11 minutes into the game.
Said Wittman: "The first quarter, I guess neither side of the ball for us was ready to play. Then the defense played, in my eyes, incredible. That's some of the best defense I've seen and a lot of guys stepped up. We just didn't do it offensively."
Indeed, Leavenworth's only points the rest of the night came on a 27-yard Jake Boyce field goal in the final seconds of the first half. In the final two quarters, Lawrence's defenders started playing like their Leavenworth counterparts. The Pioneers' offense only managed three second-half first downs, 48 yards of offense and Randall finished the game averaging just 3.8 yards a carry — just more than half his average the first six weeks.
The final 24 minutes, the Lions made stop after stop on defense. Matthew Weiss tripped up Randall for no gain. Five Lions sacked Leavenworth quarterback Landry Hodges at once for a 10-yard loss. Alan Clothier, Kieran Severa and Green converged on Randall for a loss of two yards. Jacob Nation, Ryan Bellinger and Green pressured Hodges into an incompletion on a third-and-long. Alex Jones stuffed a Randall run at the line of scrimmage. Nick Benton covered up Ross on a deep ball down the sideline.
Wedd loved how the defense responded to being in a 13-0 hole.
"There were some other plays that could have been touchdowns, but they did an outstanding job, just played their guts out," the coach said. "Offensively we're just so limited in what we can do."
Even so, with will power and brute force, Green finished Lawrence's first offensive drive of the second half by breaking too many tackles to count on his way to a 43-yard rushing touchdown with 9:01 left in the third quarter. Once Anderson connected with Zay Boldridge for a two-point conversion, the Lions had themselves a one-score game, at 16-8.
But Lawrence's next three drives ended with punts. On their final possession, they had to go for it on fourth-and-four at Leavenworth's 27, and the Pioneers blew up the play, bringing Green down for a five-yard loss with 1:30 left in the game.
"We preached before the game that the team with the least amount of mistakes was gonna win the game," Green said, "and we made too many mistakes, missed too many tackles. They simply just beat us. They were tougher, they played with more enthusiasm, they got a lot of push from their O-line. That's not all on our line. Football's all about making plays. We're not gonna be given anything easy any time."
The Lions (2-5) will play host to Kansas City, Kan., Wyandotte (3-4) for their second district game on Friday.
---
Lawr. | Leav.
First downs 10 | 9
Rushes-yards 41-94 | 41-150
Passing yards 76 | 89
Total offense 170 | 239
Return yards 27 | 71
Fumbles-lost 0-0 | 3-0
Penalties-yards 1-5 | 8-51
Score by quarters
Lawrence 0 0 8 0 — 8
Leavenworth 13 3 0 0 — 16
Individual statistics
Rushing
Lawrence: Drew Green 19-66, Dearion Cooper 5-17, Zay Boldridge 1-13, J'Moni Bryant 1-4, Kieran Severa 2-4, Nyle Anderson 13-minus-10.
Leavenworth: Jason Randall 19-72 TD, Isaiah Ross 7-68 TD, Landry Hodges 13-17, Team 1-minus-2, DeCovyn Gaines 1-minus-5.
Passing
Lawrence: Anderson 7-13-76.
Leavenworth: Hodges 2-6-89.
Receiving
Lawrence: Severa 2-37, Price Morgan 2-30, Green 1-8, Adam Hayes 1-5, Tucker Sutter 1-minus-4.
Leavenworth: Gaines 1-53, Ross 1-36.
HOW THEY SCORED
First quarter
4:12 — Jason Randall 5 run. Jake Boyce kick. (Leav. 7, Lawr. 0.)
1:10 — Isaiah Ross 5 run. Boyce kick failed. (Leav. 13, Lawr. 0.)
Second quarter
0:1.4 — Boyce 27 field goal. (Leav. 16, Lawr. 0.)
Third quarter
9:01 — Drew Green 43 run. Zay Boldridge pass from Nyle Anderson. (Leav. 16, Lawr. 8.)
Copyright 2018 The Lawrence Journal-World. All rights reserved. This material may not be published, broadcast, rewritten or redistributed. We strive to uphold our values for every story published.