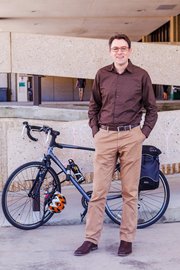 Age: 41
Relationship status: Married
Hometown: I grew up in North Carolina and Louisiana.
Time in Lawrence: Since '05.
Occupation: History professor
Dream job: This is my dream job. I feel really lucky!
What were you doing when scouted? I was about to go to Carruth-O'Leary and turn in my annual salary report.
Describe your style: I like inside jokes with my style. When I was looking for my last pair of glasses, as soon as I saw these wood frames, I had to go for it because of the play on my last name. My watch also has a faux wood face. It's little details like that that make me smile. Every once in a while somebody notices and it makes me happy.
Fashion trends you love: All I can say is that I'm skinny, which in the '90s when everybody was wearing baggy clothes, it didn't help. But now it's great that people are wearing form-fitting clothes.

Fashion trends you hate: I don't know! Look, we're part of a culture: we look around, we see what we like and we see what other people wear. It's funny how cultures can be so self-perpetuating and enforcing: the fact that I'm on a college campus means that I always see people wearing a uniform… like a KU T-shirt, which I don't hate!
Fashion influences: I just observe. I watch and see what I like and then I try to get it cheap. If I'm in Eastern Europe, I'll pick up something fashionable over there like this shirt, which is from Poland. But I live here in Lawrence so plenty of my clothes come from whatever is available here.
What would you like to see more of in Lawrence? Beards!
Less of? This is so cliché… but what are those Nike shorts? I think there's too much of that. They're sort of the uniform.
Whom do people say you look like? Matthew Modine
What type of music do you unwind to? Radiohead, Franz Ferdinand or The National.
Tell us a secret: I spend way too much time looking for used cars. You'd think I'd be happy I love riding my bike.
Copyright 2018 The Lawrence Journal-World. All rights reserved. This material may not be published, broadcast, rewritten or redistributed. We strive to uphold our values for every story published.