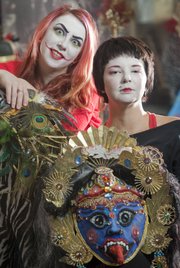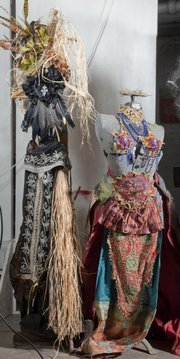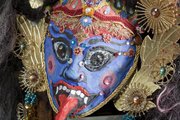 Best-selling Pieces at Spirit Halloween
Superhero corsets
Avengers
Zombie paraphernalia
Vampires
"Adventure Time" (for kids)
"The Regular Show" (for both kids and adults)
Super Skins (breathable body suit)
Mullets ("Duck Dynasty")
Elf ears
Halloween costume stores:
Spirit Halloween, 1519 W 23rd St.
Fun and Games, 830 Massachusetts St.
Party America, 1441 W 23rd St.
Sarah's Fabrics (basement for costumes), 925 Massachusetts St.
Plato's Closet, 3514 Clinton Parkway
It's that time of year again — the holiday where we can slap the word "sexy" in front of any unsuspecting noun and that's the ultimate Halloween costume.
This year we can thank our lucky stars that Miley Cyrus and Robin Thicke performed at the MTV Video Music Awards so couples everywhere can recreate the teddy bear twerking experience. This is, after all, one of the best-selling costumes on Google Shopping this year. Others include Walter White from "Breaking Bad," "Great Gatsby"-style flapper dresses, and Daft Punk.
So now that we've all made a pact to ignore those and get creative with our costumes, let's take the lead from two "foxy" ladies with extensive costuming experience.
The Foxy By Proxy burlesque troupe is hosting its 4th annual Halloween Extravaganza at 10 p.m. Nov. 1 at the Granada, and assure that just like last year, it's going to be worth checking out.
"The Halloween show is the goofiest and creepiest stuff that we have," said dancer Jen Young, whose stage name is Scarlet Harlot. "Last year we did a full-on demon exorcism bit. It was an 11-minute-long terror-fest."
Not only does this year's show include some (religious and anti) odes to Jesus, but it also features one-of-a-kind, assembled-from-scratch costumes. Take note, Lawrence.
Getting the look
When it comes to making a costume on your own, look for inspiration online and make adjustments accordingly. It doesn't have to be an original idea.
Young plays the Joker in one of her acts in the show, but her costume was adapted to fit the glamorous burlesque theme. She modeled her costume off the Jack Nicholson joker, and used the colors and shapes of his attire to build her own outfit.
Besides the hat and green wig she found at costume shops, her costume is a collection of found pieces. Instead of gangster pants and an orange shirt that Nicholson wears, she opted for a purple skirt found at Plato's Closet, 3514 Clinton Parkway, and an orange bra.
"I was able to find the right jacket somehow by the grace of god and dye it purple," Young says of the white jacket she also found at Plato's and the $2 dye she bought at WalMart. Plato's also resells costumes, Young adds.
"We aren't costume snobs in Foxy," Young says. "We are kind of DIY grass-roots, whatever we can put together and make the best of."
That doesn't mean they don't make ornate costumes. Amber Proctor, aka Bel Ruby, will grace the stage covered head-to-toe in bugs, inspired from the song "Covered in Bugs," by Glass Candy.
"It's kinds of a dark song with an Asian sound to it, which is why I'm going with the geisha look," Proctor says of her makeup.
After ordering an off-the-rack belly dance outfit online, she ordered the cheapest plastic roaches and flies that she will take apart, hand paint and glue all over her costume.
Proctor is spending more time on assembling this embellished ensemble because of its personal tie to her suffering from fibromyalgia symptoms. She is sick often, and will feel like bugs are crawling all over her skin.
"It's kind of a way to make this disease visual, but also make it beautiful with the belly dance," Proctor says. "For me it's not horrible at that moment. It's a way to work out the pain."
For non-sewers, the foxy ladies swear by E-6000 adhesive to glue fabric together and attachables (like the bugs) to the cloth.
Making the face
To pull the look together, the troupe spends time trying out various makeup tricks. Proctor suggests using cake makeup to cover large areas of skin, rather than cream (used at sporting events), to avoid cracking in skin creases.
A glue stick is your friend when it comes to hiding your eyebrows and drawing them in higher or darker. Alternate between applying glue and makeup until reaching the desired look, Proctor said. She purchases all of her makeup inexpensively at drugstores or Party America.
Tatyana Wilds, Kansas University lecturer and graduate student of theatre makeup, said that higher-quality looks require more expensive makeup, but it can be done cheaply.
With foundation, cream makeup for shadows (blue and maroon cream for bruises), and stage blood, any look can be created.
"It doesn't take much time, and it looks really cool," Wilds says.
Next week, Wilds will be teaching her class about 3-D makeup using Derma Wax, a transparent wax that can be molded and carved to create gaping wounds, or alter body parts, like the nose. Derma Wax, or substances like it, can be found at most Halloween stores.
Spirit Halloween, 1519 W 23rd St., is selling odds-and-ends more than anything else this year, says manager Rachel Baker. Accessories, like a plastic wrench, sell well because it's lighter to carry around, but an outfit to complete the look can be found elsewhere. From bright hair pieces, to masks, to fake blood and organs, Baker will see customers walk out with strange combinations.
"People buy the weirdest things," she says.
Copyright 2018 The Lawrence Journal-World. All rights reserved. This material may not be published, broadcast, rewritten or redistributed. We strive to uphold our values for every story published.