A new season and a different location launched Kansas City Fashion Week's runway shows and events over a nonstop, four-day period.
Events that surround the KCFW give a little teaser as to what might be strolling down the catwalk this season. It's the one event where fashion-lovers unite and the excitement is overwhelming in the best way possible.
After a week of fashion-infused activities, fashion detox is in order, which is probably why it only happens two weeks out of the year. Although I'm unabashedly ready for next season already. Needless to say, it's the best fashion event I've ever attended.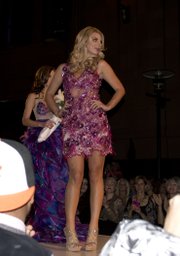 On Oct. 3 in the beautiful and grand Union Station hosted runway shows from several designers, including featured designer AC78 by Sporting KC's Aurelien Collin and Paolini Garment Company.
Oct. 4 was for rolling out the red carpet, literally. They had their red carpet event with their charity partner, KC Pet Project. $3 from every ticket sold for that show was donated to KCPP. I absolutely love that they partner with a local charity. Watching fashion shows for a good cause is always a plus in my book.
They also asked that everyone bring an item to donate to the shelter, which was a brilliant idea because any little bit helps. That night they even had models hold adorable kittens while strutting down the runway.
Mixing fashion and animals is right up my alley, which is why I chose to attend this particular night. Enjoying something you love all while helping people/animals in need is something Kansas City Fashion Week always strives to do. It's another reason why I think it keeps growing and evolving each year.
On Oct. 5, local boutiques and area retailers showed their assortment down the runway and was free for the public at attend. A retail and designer market was set up for people to look around and do some serious shopping. That night kicked off seven more displays from designers, including Lauren Bander, BMDesigns, Architexture, RareTrends, christianMICHEAL, Hilary Brown and Kate Walz. Oct. 5 marked the last day KCFW 2013 with childrenswear and a student designer showcase.
Another fashion season went down in style at Kansas City's Union Station thanks to the fabulous and creative minds behind Kansas City Fashion Week. I'll be eagerly awaiting what KCFW has up its sleeve for next season, as I assume it will continue to expand and undoubtedly surprise the masses.
— Emily and Elizabeth Kennedy are twin sisters and fashion bloggers who share a blog called Fashion Column Twins. They can be reached at fashioncolumnblog@gmail.com.
Copyright 2018 The Lawrence Journal-World. All rights reserved. This material may not be published, broadcast, rewritten or redistributed. We strive to uphold our values for every story published.