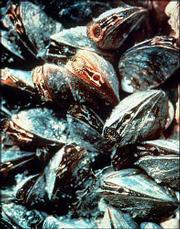 An infestation of zebra mussels, an invasive species of mollusk known to clog water intake pipes and outboard motors, has been confirmed in Clinton Lake, officials said.
An adult population of zebra mussels was discovered last week during a routine fish sampling and a subsequent survey indicated the population was widespread.
"These latest discoveries show how important it is for the public to be aware of the dangers of aquatic nuisance species and to take precautions to prevent their spread," said Jessica Howell, the Aquatic Nuisance Species coordinator for the Kansas Department of Wildlife, Parks and Tourism.
Twenty-two lakes in Kansas have zebra mussels. Other reservoirs in northeast Kansas with infestations are Milford, Perry, John Redmond, and Melvern.
State and federal officials urged the public to help prevent the spread of zebra mussels to uninfected lakes.
"By always cleaning, draining, and drying boats and other equipment and by not moving water around, we can stop the spread of not just zebra mussels, but most aquatic nuisance species that may be present," Howell said.
Now that the sharp-shelled zebra mussels have been confirmed in Clinton, notices will be posted warning people to use caution. People should protect their feet when walking on underwater or shoreline rocks, and they should be careful when grabbing objects underwater.
The mollusks are bean-sized with stripes, and can produce huge populations in a short period of time.
They attach to pipes, boat hulls, propellers, rocks, piers and other structures.
In 2012, Council Grove and Osage City experienced temporary water shortages because zebra mussels had partially blocked water intake equipment.
Zebra mussels are native to the Black and Caspian seas and were spread around the world in the ballast of cargo ships. They were discovered in Lake St. Clair and the Detroit River in 1988 and quickly spread. They were first found in Kansas in 2003 in El Dorado Reservoir.
Moving water in boats and bait buckets are the most likely ways the zebra mussels are transferred to uninfested lakes.
Copyright 2018 The Lawrence Journal-World. All rights reserved. This material may not be published, broadcast, rewritten or redistributed. We strive to uphold our values for every story published.