A local outreach and enrollment worker for the Affordable Care Act has come under scrutiny after a national website published a story detailing her past legal problems Monday.
Those who oversee the navigator program are standing by the employee, Rosilyn Wells, and say she's trying to help others avoid the problems she had because of medical debt. Critics of Obamacare say the decision to hire someone with Wells' legal issues is emblematic of problems with the navigator program.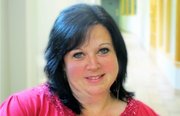 The conservative-leaning Daily Caller reported that Wells, who works at Heartland Community Health Center, had an outstanding arrest warrant to go with past financial problems. The story later headlined the popular Drudge Report website.
Wells was recently hired to be a full-time navigator to provide education about the Affordable Care Act — the 2010 health care law often referred to as Obamacare — and help enroll people in its health insurance marketplace. She is still being certified to do so. The navigator program is funded by the federal government to assist people with signing up for the new health insurance options in states that, like Kansas, declined to set up their own marketplaces.
Wells, 40, of Lawrence, has had a bench warrant out of Shawnee County for an unpaid civil court judgment. She also filed for bankruptcy in 2003 and had another small claims judgment against her in 2007.
"I've made financial mistakes," Well said Monday. "I've bounced a check. I've got unpaid debts now that I'm still working to pay. I'm a single mom now. I'm climbing out of that hole."
But she said that has never compromised her ability to handle someone else's personal information and that will continue to be the case going forward.
The warrant stemmed from $5,236.59 in unpaid debt Wells had accumulated at Stormont Vail HealthCare in Topeka, she said. Wells said the debt was the result of a hospital stay from when she was uninsured. She added that she wasn't aware of the warrant until the Daily Caller reporter contacted her, and she has since rectified the issue with the courts and the warrant is no longer active.
The article also stated that she had an outstanding tax bill of $1,700, though Wells said that claim was unfounded. A search of tax delinquencies on the Kansas Department of Revenue website didn't pull anything up for Wells.
Jon Stewart, chief executive officer of Heartland Community Health Center, said the irony of the situation is that Wells' legal problems were largely the result of medical debt, something she is now trying to help others avoid by assisting them in signing up for health insurance. Wells was up front about the debt issues during her interview with the clinic, Stewart said.
"It's pretty clear that Rosilyn Wells is a person who wants to help people who are in a situation like she's been in," he said.
Heartland and the Kansas Association for the Medically Underserved, which oversees the navigator program in the state, both say they are looking into the situation but expressed confidence in their background check processes.
"Each navigator has passed a background check completed by a national company who specializes in this," KAMU said in a statement. "Our navigators have also completed extensive training that stressed the fact that information given to them cannot be stored or shared. We are confident that this practice will be followed, and consumers should feel safe with our navigator assistance." 
While navigators have access to personal information during the enrollment process, none of that data is to be saved or recorded, Stewart said. He said that since Wells has committed no felonies or "person-to-person crimes," he has no reason not to entrust her with that task. "What would Jesus do in a situation like this?" he added. "Part of our calling is that people deserve a second chance."
News of Wells' arrest warrant quickly spread across the Internet on Monday, with conservative politicians and pundits citing the case as another example of the ineffectiveness of the Affordable Care Act rollout. The law's implementation has been under intense criticism because the healthcare.gov website has been beset with glitches and delays.
"The lead ObamaCare navigator in KS has outstanding arrest warrant. Trust her w/ ur IRS info. #ObamaCareFail," tweeted U.S. Rep. Tim Huelskamp, R-Kan., on Monday. (Wells is not the lead navigator for the state of Kansas.)
Kevin Groenhagen, a Lawrence publisher who found record online of Wells' past legal trouble and forwarded the information to the Daily Caller reporter, said the story is another example of why the Affordable Care Act's implementation should have been delayed by a year.
Groenhagen, an opponent of Obamacare, said he found out about Wells' background while researching a book he is writing about the "socialist coalition," which he says includes groups like ACORN, or the Association of Community Organizations for Reform Now, and the Service Employees International Union. He said he had heard that former members of ACORN, a voter registration group that was dissolved in 2010 following controversy over whether employees were engaged in criminal activity, may be involved in the navigator program. After hearing about Wells, he Googled her name and found a newspaper article that referred to her 2007 bad check case.
"She may be a great person and as honest as they come, but I think, looking at that background, that does raise a lot of questions," said Groenhagen. He said his issues aren't with Wells personally but with the navigator program itself, which has been scrutinized by Republican members of Congress for not doing sufficient background checks. "If I had a financial advisor who I went to with all my financial information … with a warrant for his arrest and a problem with writing worthless checks, I would take my business somewhere else pretty quickly."
Wells asserted that she's simply an "easy target" for people trying to discredit the health care law.
"It's certainly easy to make me look terrible with a few pieces of information that you can twist and turn," she said. "But I'm not a horrible person. I'm in this for the right reason. There are lots of people who are just like me, who have had financial hardship or struggles or didn't have health insurance. My job is to help people who are no different than me."
Copyright 2018 The Lawrence Journal-World. All rights reserved. This material may not be published, broadcast, rewritten or redistributed. We strive to uphold our values for every story published.