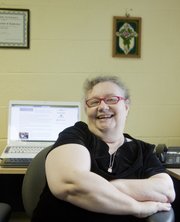 Kathy Lobb wants everyone to have the same opportunities she has: their own place, a job, independence. But some people need a hand to get there.
Lobb is one of those people. Born with cerebral palsy, Lobb has a job and lives on her own but still relies on help from others for things like transportation and hygiene.
"I have my own place here in Lawrence. I've been a taxpayer since 1999," she says. "I'm real proud to be a homeowner. I also pay property taxes and income taxes, just like everybody else."
She has spent decades advocating for people like herself on the local, state and national levels, serving for the past 12 years as the legislative liaison for the Self Advocate Coalition of Kansas, based in Lawrence. During that time, Lobb, 57, has testified at numerous legislative hearings in Topeka and lobbied countless lawmakers.
"Kathy does a great job of bringing the voice of the consumer to our policy makers and our legislators," said Craig Knutson, director of self-advocacy services for the coalition. "And Kathy has been around and done this job long enough that all the old-timers at the statehouse and in the state agencies know who she is, and that she's not just representing herself, she's representing a lot of Kansans with developmental disabilities."
As people with developmental disabilities have moved from the institution into the community, people like Lobb often are a big reason why. It's one thing to have someone advocate on behalf of people with developmental disabilities; it's quite another when that person can speak from personal experience. Lobb says people with developmental disabilities "can be as independent as anyone else in the community, as long as they have the right support."
Her advocacy work began years ago, when she started attending meetings of the Self Advocates of Lawrence. After a while, it became clear she had a knack for the work, and she became a spokeswoman of sorts for the organization.
"I've always spoken out no matter what it was about," Lobb says. "I'm not shy and I'm not afraid."
The Self Advocate Coalition of Kansas, based out of the United Way of Douglas County building, incorporated in 1999 to serve as the voice at the state level for the various local self-advocacy groups. Lobb started volunteering for the group shortly after, and in 2001, it secured enough funding to hire her as its official legislative liaison.
Along the way, Lobb has worked on the Developmental Disabilities Reform Act, an important step toward integrating people with developmental disabilities into the community, as well as Rosa's Law, which struck the words "mental retardation" and "mentally retarded" from Kansas statutes. She also helped enact the Employment First Initiative a few years ago, making it official state policy that people with developmental disabilities be given the opportunity for competitive, integrated employment.
Perhaps her biggest cause, one she's been trying to fix most of the time she's been on the job, is clearing out the waiting list for the developmental disability waiver, which allows people with disabilities to get the services they need to remain independent. Lobb knows from experience what many of those 4,000 people on the waiting list are going through.
"Kathy has really been a champion of those kids who graduate from high school to their parents' living room," said Barbara Bishop, executive director for Arc of Douglas County, which provides support for the Self Advocate Coalition of Kansas. "People are individuals, and one of Kathy's true strengths is reminding people of that: that what I can do is different from what other people who have my disability title can do. You have to make policies that draw from our strengths because we have things to offer, if you give us the right support."
Most of all, Bishop says, Lobb puts a human face to the numbers and dollar figures bandied about at the statehouse, turning "money decisions" into "people decisions."
Lobb is nothing if not outgoing. While she'll introduce herself to anybody, she has the keen ability to make sure the people with the power to change things know exactly who she is.
"You know when something comes up, Kathy is going to get ahold of you on this, so you better figure out what your position is," said state Sen. Marci Francisco, a Lawrence Democrat. "She takes the time to stop by and remind me of what's coming up on the agenda, what bills are important, what budget issues they are looking at each session."
Even when the Legislature is out of session, Lobb keeps busy — talking to other self advocates from across the state, attending statewide funding conferences, giving testimony at meetings, as she did this week in front of the KanCare oversight committee.
Shirley Lobb, Kathy's mother, says she is glad her daughter was able to find a career she enjoys. "We're very proud of her," said Shirley, who lives in Oskaloosa with her husband, James. "She's come so far. I think she's ahead of us sometimes." In fact, Lobb loves the work so much she says she would do it for free. And she doesn't plan on giving it up anytime soon.
"I like my job too much to think about retirement," she says.
Copyright 2018 The Lawrence Journal-World. All rights reserved. This material may not be published, broadcast, rewritten or redistributed. We strive to uphold our values for every story published.