Howard Diacon puts the "pal" in principal.
Each morning, the tiny, sleepy-eyed faces of Sunflower School students are met with bright smiles and cheery "hellos" from the school's faculty outside the school.
Principal Howard Diacon and his staff greet their students curbside at 8:20 a.m. sharp.
"If I can start them off with a smile and a good morning," Diacon said, "I just think they're going to have a better day."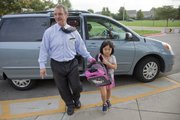 Aside from starting the students out on a good note, the system promotes a "safety first" mentality. Diacon said the greeting system first came about when he started at Sunflower last year and noticed the drop-off situation could be more orderly.
"If I'm out there, my parents are better behaved as far as driving behavior," Diacon said. "It helps us make sure that the kids get out close to the curb and cars aren't moving until the kids are cleared."
Deana Shenouda's sons, Andrew and Jacob, are in kindergarten and fourth grade at Sunflower. Shenouda appreciates Diacon's active role at the school.
"It's been a good change over past years," she said of the new principal. "He bonds with the kids. He knows all their names."
Parent Fernado Ipanaque said Diacon's morning greetings to his third-grader Noah and kindergartner Aidan make him feel more connected to the school.
"He's really nice and approachable," Ipanaque said, "and that makes all the difference."
After seeing the positive combination of a safer school zone and happier students, Diacon said the friendly morning kickoff has become an integral piece of student success.
"If you're going help a kid be successful, you have to touch their heart," Diacon said. "They have to believe that they're important to you and you can't do that until you build a relationship with them."
But children aren't the only ones benefiting from the early ritual. Diacon also gets a much-needed morning boost to begin each day as an elementary school principal.
"This is really hard work, but it starts my day off on the right foot when I see kids and they're excited to be here," Diacon said. "It recharges my batteries."
Copyright 2018 The Lawrence Journal-World. All rights reserved. This material may not be published, broadcast, rewritten or redistributed. We strive to uphold our values for every story published.