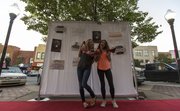 Shoppers descended on Massachusetts Street to support The Willow Domestic Violence Center as part of Downtown Lawrence, Inc.'s third annual "Girls Night Downtown" charity event Thursday.
Participants bought tickets to access special discounts at more than 40 downtown businesses. All ticket proceeds will go to the Willow center. October is Domestic Violence Awareness Month.
Red balloons of participating businesses dotted the sidewalks, while shoppers swung their red shopping bags filled with goodies. A red-carpet photo shoot was set up outside the Lawrence Antique Mall at 830 Massachusetts St., where additional donations could be made.
"It's a win-win, it's a great cause," said Tatum Bandy of Lawrence. A little over an hour into the event, she said, she had made purchases at three stores and intended to do the same at three more, in order to qualify for raffles at the end of the night.
"It's a great night out," she said.
Copyright 2018 The Lawrence Journal-World. All rights reserved. This material may not be published, broadcast, rewritten or redistributed. We strive to uphold our values for every story published.