Photo Gallery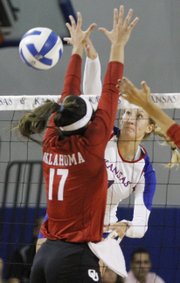 KU volleyball vs Oklahoma
The Kansas Jayhawks volleyball team took on the Oklahoma Sooners Wednesday night at the Horejsi Center.
Beating big, bad Texas in any sport means something to Big 12 athletes. It means something a little extra special when the sport is volleyball and the woman facing the Longhorns happens to have grown up in Nebraska.
Volleyball is huge in Kansas University junior outsider hitter Chelsea Albers' hometown of Papillion, just as it is in every other city in Nebraska.
The whole state gets behind the perennial powerhouse Cornhuskers, which made Texas Public Enemy No. 1 until Nebraska bolted for the Big Ten in time for the 2011 season.
Nebraska won 10 outright Big 12 titles and shared two more with the Longhorns, who have four outright titles. Kansas State (2003) is the only other school to win a Big 12 title in volleyball.
Albers played well Wednesday night in KU's sweep of Oklahoma, which sets up the Jayhawks' first-place showdown Saturday with Texas in Horejsi Center, a meeting of the Big 12's only unbeaten teams in conference play. Nobody need give Albers a pep talk for the 6:30 p.m., talk-of-the-town event.
"Definitely grew up disliking Texas a lot," Albers said. "This is a big game for Kansas and a big game for every individual because everyone knows how good Texas is. I honestly think we can beat them, and we will if we play well."
That would be some accomplishment.
"Unbelievable talent," Albers said of Texas. "They recruit well and they play hard and we're just looking to do the same thing."
Albers' development has been not unlike that of a hard-throwing pitcher who learns when to take the foot off the gas for the sake of pinpoint accuracy and when to let it fly.
She had wicked loud shots and others that hit the spots when there weren't many spots to hit.
"It helps when you have teammates talk to you," said Albers, who took up the sport when she was in kindergarten. "They're telling me where to hit and I just work on seeing the ball. So it's just kind of a team effort. I've been working on my shot selection a lot, knowing that I can't hit it the hardest all the time. I've got to place it."
Still, nothing quite energizes the crowd the way one of her intimidating kills does. And the same goes for the athlete.
"It's very fun to put it down real quick," she said with a smile.
And it puts a little flinch in the opponent.
"I hope I intimidate them a little by hitting hard," she said.
It's not easy to scare Texas. And it's not easy to shake the confidence of Kansas, either, as the Jayhawks showed by falling way behind in the first set and needing to come back late in the third to complete the sweep of the Sooners, a nice warm-up for later in the week.
Copyright 2018 The Lawrence Journal-World. All rights reserved. This material may not be published, broadcast, rewritten or redistributed. We strive to uphold our values for every story published.