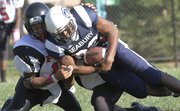 Seabury summary
WOL BSA
First downs 8 9
Rushes-yards 20-159 37-72
Passing yards 158 157
Total offense 317 229
Fumbles-lost 3-1 3-0
Penalties-yards 11-85 9-85
Score by quarters
WOL 0 6 8 20 — 34
BAA 10 22 6 12 — 50
Individual statistics
Rushing
WOL: Pedro Dean 12-147 3 TDs, Dwight Rahming, 3-15, Dwane Robinson 5-minus-3.
BSA: Patrick Gutierrez 12-28 2 TDs, Marcus Allen 7-20, Charlie Arnold 4-19 TD, Joe Simpson 13-6 TD.
Passing
WOL: Rahming 11-27-158 2 TDs and 2 interceptions, Robinson 0-6-0 interception.
BSA: Simpson 11-15-160 2 TDs and interception, Austin Gaumer 1-7-minus-3.
Receiving
WOL: Manny Richard 2-56 TD, Myron Johnson 2-43, Marquise Murphy 4-28 TD, Dean 1-12, Ramon Hart 1-12, Shannon Johnson 1-7.
BSA: Allen 6-108 2 TDs, Harley Holub 1-22, Arnold 2-18, Jean-Jacques Corbier 1-6, Gutierrez 2-3.
HOW THEY SCORED
First quarter
4:59 — Dwight Rahming falls on fumble in own end zone for safety. (BSA 2, WOL 0.)
2:50 — Charlie Arnold 17 run. Joe Simpson run. (BSA 10, WOL 0.)
Second quarter
11:10 — Pedro Dean 4 run. Dean run failed. (BSA 10, WOL 6.)
7:17 — Marcus Allen 15 pass form Simpson. Jean-Jacques Corbier pass from Simpson. (BSA 18, WOL 6.)
2:50 — Simpson 6 run. Harley Holub pass from Simpson. (BSA 26, WOL 6.)
1:09 — Allen 30 interception return. Simpson run failed. (BSA 32, WOL 6.)
Third quarter
6:49 — Allen 57 pass from Simpson. Simpson run failed. (BSA 38, WOL 6.)
4:49 — Marquise Murphy 27 pass from Dwight Rahming. Shannon Johnson run. (BSA 38, WOL 14.)
Fourth quarter
10:23 — Patrick Gutierrez 10 run. Simpson run failed. (BSA 44, WOL 14.)
8:59 — Dean 20 run. Johnson run failed. (BSA 44, WOL 20.)
8:02 — Manny Richard 25 pass from Rahming. Dean run failed. (BSA 44, WOL 26.)
4:33 — Dean 60 run. Dean run. (BSA 44, WOL 34.)
0:38 — Gutierrez 19 run. Simpson run failed. (BSA 50, WOL 34.)
-->
-->
At times this season, players on Bishop Seabury Academy's eight-man football team toiled too often to build much stock or consistency. On offense, plays got blown up. On defense, breakdowns led to big plays, which led to blowout losses.
After the Seahawks held off a late rally by Wichita Word of Life for a 50-34 home victory Thursday, they started to feel as if they just might be finding the answers to leave their struggles behind.
It had only been 13 days since Seabury lost, 22-12, at Word of Life. In the opening minutes of the fourth quarter, the Seahawks (2-4) led by 30.
Senior Marcus Allen, who had 128 total yards and two touchdown catches in the win, said Seabury couldn't hold a 12-point lead the last time the teams met.
"Considering it's our best game yet, we've come a long way," Allen said. "We've improved a ton. There's team chemistry building up, and we're just putting trust in all of our players."
Once Seabury led 44-14 following a 10-yard rushing touchdown from senior Patrick Gutierrez, coach Aaron Combs and his staff showed confidence in the team's second string, putting the backups in to finish off the Fire.
But when the subs failed to pick up a first down on any of their three series, Word of Life capitalized. Running back Pedro Dean (147 yards) ran for a 20-yard touchdown, quarterback Dwight Rahming passed a 25-yard TD to Manny Richard, and Dean broke a 60-yard score with 4:33 left, cutting Seabury's lead to 10.
That's when Combs decided to let senior quarterback Joe Simpson and the rest of the starters finish the job.
Said Allen: "We just had to make sure once we got back out there that we set things straight and kept things in line."
Gutierrez ran for a first down, junior Harley Holub picked up another on a 22-yard pass from Simpson, and, with 38 seconds left on the clock, Gutierrez rushed for his second score, busting a 19-yard run to the end zone.
Simpson, who completed 11 of his 15 passes for 160 yards, with two touchdowns and one interception, said the Seahawks felt as though they finally started playing to their potential, even though the Fire made the score close late.
"You just have to keep your composure," Simpson said of the shrinking lead. "They're coming up, the nerves build up, but you've gotta keep going, do your thing."
Combs loved the fact his Seahawks held Word of Life to 14 points through three-plus quarters, because they had given up more than 50 points in four of their first five games.
"They stuck with their man, stuck with their assignments and didn't try to do too much," Combs said. "They played within their means, and that's how we ended up getting three interceptions, one taken back to the house."
Allen picked off a Rahming pass in the final two minutes of the first half and returned it 30 yards. Freshman Max Easter came up with the other two picks, snatching both out of the air on deep passes.
Freshman Grant Gollier produced a third-quarter sack on defense and sophomore Glen Lemmon recovered a fumble near the line of scrimmage in the second quarter.
Simpson pointed to that kind of productivity as yet another sign of the Seahawks' growth.
"Our defense has stepped up a lot," he said. "The first couple games we weren't doing too well."
Copyright 2018 The Lawrence Journal-World. All rights reserved. This material may not be published, broadcast, rewritten or redistributed. We strive to uphold our values for every story published.