Delicious
Gameday snacks. Well, this should be right up my alley. I mean, I live with the king of gameday.
Mr. Meat and Potatoes, my husband, is a sports fan. Or, should I say, Sports Fan. He takes this part of his life quite seriously. I mean, I hosted a fantasy football draft at my home this year that required the better part of a week for me to plan and cook for. Mr. Meat and Potatoes and his people do not mess around when it comes to sports and food.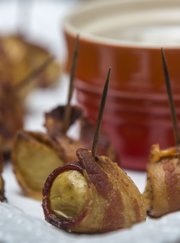 So when Sarah and I decided to mix it up this time and focus on a topic instead of an ingredient, you'd think I'd have had a go-to thing to whip out of my reserves on this particular subject. But I thought of all my usual things and either I've done them before or I found them tired. Buffalo sauce, ranch dip, chips and salsa, yada yada. So rather than re-invent the football food wheel, I decided to go back to basics.
What does my football-loving husband love most in food? Well, meat and potatoes. In particular, bacon, which he considers the candy of meat. So what could be wrong with wrapping a potato in bacon and calling it a snack?
This is so easy it's stupid. But it might be my favorite thing I've made in months. Bacon, potato, sour cream. Done and done.
For this, I recommend yukon golds. They're inherently buttery and delicious, and they're a good size. Also, get good bacon. Never skimp on bacon. For seasoning, I used a special spice mix I made for my husband on Father's Day that I lovingly refer to as "Habanero Hub Rub" but I have tried in my recipe to re-create the ingredients.
By the way, my husband LOVED this. LOVED IT.
Spicy Bacon Wrapped Potato Bites
10 yukon gold potatoes
12 strips of bacon
1/2 cup sour cream
Spice Mix:
1/2 tsp habanero powder (or some other hot pepper spice)
1 tsp garlic powder
1 tsp kosher salt or sea salt
1 tsp cumin
2 tsp brown sugar
Cut your potatoes into bite-sized pieces. Cut the bacon into halves or thirds depending on how large your potato pieces are and how many.
Dip each potato into the spice mix and then wrap in bacon and secure with a toothpick.
Bake on a broiler pan at 400 degrees for 30 minutes or until the potatoes are cooked through and the bacon crispy.
For dipping sauce, simply put sour cream in a small bowl and sprinkle 1/2 teaspoon of the spice mix over it for a little extra kick.
This is amazing. I am not kidding. Sometimes, simple is best. This will keep sports fans and their non-sporty counterparts happy. Happy eating, friends.
Nutritious
Megan and I decided to do a little something different his month. Rather than using the same ingredient, we decided to do the same theme. And because October is the month that college football and basketball collide, it seemed fitting to do game-time snacks.
For me, the perfect anytime snack is one that's just right for a game, too: trail mix.
It's customizable, satisfying and easy to make for any crowd size.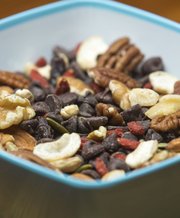 And it doesn't have to be unhealthy. Store-bought "gorp"-style trail mix isn't the healthiest option ever, to be sure, but trail mix doesn't have to consist of processed junk. In fact, I use a snack of trail mix as an opportunity to get my daily dosage of healthy fats.
My mix includes pumpkin seeds (polyunsaturated fats plus iron, vitamins K and E and folate), walnuts (omega-3 fatty acids), almonds (monounsaturated fat, calcium, iron, riboflavin), pecans (monounsaturated fat, manganese, thiamin) and cashews (monounsaturated fat magnesium, manganese, phosphorus).
For fun and sweetness, I also throw in raisins, goji berries (vitamin C and beta-carotene), plus chocolate (antioxidants).
One note about nuts: Do not use roasted, salted nuts for this trail mix. In fact, forget they exist all together. The good fats in these nuts get corrupted by processing and you won't get nearly as much benefit from them if you use them. Plus, you'll get a lot more salt than you bargained for (or need). This recipe is intended for plain, un-roasted/natural/raw nuts.
Game Time (or Anytime) Trail Mix
1/4 cup of each of the following: pecan halves, walnut halves, almonds, pumpkin seeds, cashews, raisins, goji berries (or cranberries or more raisins)
1/4 cup semi-sweet chocolate chips
Mix. Eat. Enjoy. Serves 8.
Copyright 2018 The Lawrence Journal-World. All rights reserved. This material may not be published, broadcast, rewritten or redistributed. We strive to uphold our values for every story published.