An official at the Jayhawk Federal Credit Union in Lawrence insisted today that the credit union is open for business after being closed for at least part of last week, but some customers say they are still having trouble accessing their accounts.
"We're trying to get things done that were left undone when our people left," said a Jayhawk official who would only identify herself as Pat and as a member of its board of directors. She declined to answer any further questions.
The credit union's website identifies the president of the board of directors as Patricia Racy. It is located at 2901 Lakeview Road, in the northern Lawrence industrial area.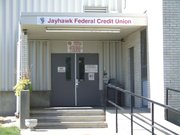 A notice on the home page of the website dated Sept. 16 says the credit union is operating under shortened hours, 10 a.m. to 4:30 p.m., Monday through Friday. It says, "Once a Manager is hired we will return to normal hours."
Melody McKenzie, a customer of the credit union, told the Journal-World today that she has had difficulty accessing her account, and she suggested the credit union has not credited an automatic deposit of her Social Security check to her account.
"My refrigerator went out Sunday," said McKenzie, who described herself as a single mother who is disabled. "We went to an ATM and I tried to get money so I could go buy a used refrigerator, but I couldn't get anything out. Now, everything I had in the refrigerator is no good."
Melissa Ward, who is also a customer, said she has not had trouble getting money out of an ATM. But she said her rent payment, which is done by an automatic bank draft on the first of each month, did not go through last week, and so she had to get cash from an ATM to pay it.
"I had to do it over two days because you can only take out $300 at a time," Ward said.
Ward also said her car payment is supposed to be paid directly out of her account on the 10th of each month and she's "not sure what happens if they're not open."
Unlike commercial banks, credit unions are owned by their depositors. They are regulated by a different government agency, the National Credit Union Administration.
The NCUA also insures deposits at federal credit unions up to $250,000.
Chartered in 1940, Jayhawk was originally affiliated with the Lawrence Paper Co. and was only available to its employees. But a company official said that affiliation ended several years ago and membership in the credit union is now open to anybody.
According to public financial disclosure information available on the NCUA website, Jayhawk reported total assets on June 30 of about $2.5 million. However, its earnings for the second quarter were only .08 percent of average assets, reflecting the low profitability margins of many smaller credit unions of that size.
NCUA spokesman John Fairbanks said the agency is aware that Jayhawk is open and transacting business, "however, there apparently have been computer problems."
Copyright 2018 The Lawrence Journal-World. All rights reserved. This material may not be published, broadcast, rewritten or redistributed. We strive to uphold our values for every story published.