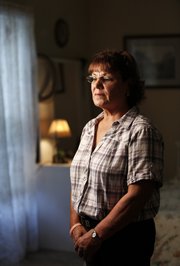 Lecompton — Roxanne Laughlin was getting a tooth pulled at the dentist when she got even more painful news: She had cancer.
During the visit, her dentist discovered a cancerous ulcer on her tongue. She had to quit smoking, ASAP. For help in doing so, the dentist referred Laughlin, who doesn't have health insurance, to a Douglas County safety-net clinic.
"He said if I didn't quit smoking, it would kill me," she said of her dentist, Stephen Vincent, whom she calls her "guardian angel." "He was the reason I went to Health Care Access."
A routine physical at the clinic additionally revealed a mass in her left breast. A mammogram later, she was diagnosed with breast cancer.
Cancer has recently upended Laughlin's life, killing her husband last year and now threatening her own well-being. While she had surgeries to remove the ulcer from her mouth and the mass from her breast, her treatment isn't over. Laughlin, 58, of Lecompton, starts chemotherapy on Thursday and radiation a few months after that.
What makes Laughlin's story unique is that she wasn't always sure how she was going to be able to afford her care. Women without health insurance don't always know their options when it comes to cancer screening and treatment. But Kansas, like every other state, offers free screening and diagnosis for breast and ovarian cancer to many low-income women without insurance.
Through the state's Early Detection Works, uninsured women between 40 and 64 who make up to 225 percent of the federal poverty level are eligible for free mammograms and pap smears. If they test positive for cancer while in the program, they are able to use Medicaid for their treatment. In Lawrence, the program is available through Health Care Access and Heartland Community Health Center.
Participation in the program, however, is low. Of the 30,000 eligible women in Kansas, only 8,000 took advantage of it in 2012. Still, Early Detection Works screened 36,291 women from the time it started in 1996 through the end of last year, discovering 484 cases of breast cancer in that period.
Benefit for Laughlin
Roxanne Laughlin's former colleagues from the Perry-Lecompton school district are throwing a benefit for her from 6 p.m. to 10 p.m. on Oct. 26 at American Legion Post 142 in Perry. The evening will feature bingo, refreshments and raffles. Donations will go toward Laughlin's medical expenses. Contributions can also be made to the Roxanne Laughlin Fund at First State Bank & Trust in Perry.
"The program has really mushroomed, and many women across the state of Kansas are being screened who wouldn't normally have been screened for breast cancer, which means we're finding cancers at an earlier stage, and that is decreasing mortality across the state from breast cancer," said Rita Davenport, public health nurse for Early Detection Works. "But there are a lot of women across the state who would be eligible for the program who are for some reason unaware of it or choose not to participate."
Uninsured women who either don't know about or don't qualify for Early Detection Works often delay much-needed care.
"We find that a lot of poor women find a lump and don't do anything about it because they're worried about the costs," said Shelly Wakeman, executive director of Health Care Access.
Laughlin, who works part-time at a grocery store in Perry, fits that mold, but she says she was willing to do just whatever it took to stay alive. Now that her insurance situation is figured out — Health Care Access helped enroll her into Medicaid — she can focus on her treatments. Not that that will be easy. She's still feeling the pain from her recent surgeries.
"It's just like it was yesterday," she said.
Copyright 2018 The Lawrence Journal-World. All rights reserved. This material may not be published, broadcast, rewritten or redistributed. We strive to uphold our values for every story published.