Photo Gallery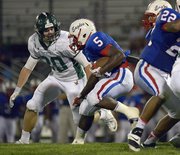 Free State football at Olathe North
Olathe — It appears the Free State High football team's stay at the top of Class 6A will be short-lived.
After earning the No. 1 ranking in the state this week, the Firebirds' offense sputtered at times in the first half Thursday night at Olathe District Activity Center, where Olathe North junior running back Venus Triplett and the Eagles happily knocked them off their pedestal, 26-19, despite a late FSHS rally.
Free State (4-1, ranked No. 1 by Kpreps.com) trailed by as many as 19 points once Triplett cut left at the line of scrimmage and took off, untouched, for an 80-yard touchdown run less than five minutes into the second half.
Triplett, who ran for 221 yards and two touchdowns, caught two passes for 39 yards and hauled in a TD catch, seemed unstoppable at times for the Eagles (3-2). But FSHS coach Bob Lisher said, more often than not, the shifty runner did nothing in particular to make Firebirds tacklers miss or fail to bring him down.
"He'd just run into a hole and we weren't filling it," Lisher said of his team's defensive breakdowns. "When you don't fill it on defense after about 90 times of trying different things, it's frustrating for everybody. You can only run so many stunts and so many fronts, and they were still running it at us."
O-North junior quarterback Cole Murphy burned FSHS some, too, with 161 total yards, and two touchdown passes — the first of which came on a fourth-and-4 from Free State's 25-yard line in the first quarter. Murphy faked a handoff to Triplett and hit tight end Josh Moore in stride over the middle for a 25-yard touchdown.
"We weren't very good," Lisher said of his team's defense, which surrendered 370 yards.
To the Firebirds' credit, Triplett's 80-yard score on third-and-11 awoke them from their stupor. They responded with their best series of the game, if not the year. Senior quarterback Joe Dineen connected with senior receiver Keith Loneker for back-to-back first downs. Then, senior running back Stan Skwarlo moved the chains again, with a 12-yard carry. Next, Dineen avoided a sack and took off for 22 more rushing yards, which put FSHS in the red zone for the first time all night.
Three plays later, Dineen kept the football and beat the O-North defense to the left pylon for a 10-yard rushing touchdown that cut the Eagles' lead to 26-13.
To give FSHS some chance of a comeback, the defense held firm the remainder of the second half, when Carson Bowen sacked Murphy on one O-North series and stopped Triplett short of a first down on third-and-11 on another.
The problem was, even as Dineen found a rhythm passing the ball on the Firebirds' first possession of the fourth quarter — completing passes to Khadre Lane, Lucas Werner, Blake Winslow and Loneker — the series ended with a turnover. Dineen (21-for-37 passing, 224 yards and a touchdown) swung the ball to Skwarlo, who couldn't gather it, on the right side of the backfield, and though the Firebirds thought the ball was a forward pass the officials called it a fumble and O-North recovered.
Later, following a successful three-and-out from the FSHS defense, the offense went 51 yards in 1:24 — a drive capped by a 15-yard touchdown reception by Lane.
Having already exhausted their three second-half timeouts, and trailing 26-19, Free State needed to recover an onside kick to stay alive. Remarkably, Winslow's short kickoff, which didn't travel 10 yards, hit an Eagle in the leg and junior Eric Howland recovered the live ball to give his team one last shot at staying unbeaten.
But on the first play of Free State's final possession, Dineen's pass went off a receiver's hands and O-North defensive back Jamil Brown picked it off to seal the Firebirds' fate.
Winslow kept his team from getting shut out in the first half by intercepting a pass (which Skwarlo had nearly picked himself) and running it back 77 yards for a touchdown. The senior linebacker said the Firebirds' two turnovers in the last 3:30 weren't the reason Free State lost. But the miscues did leave the Firebirds wondering how the game could have turned out.
Dineen agreed, and said FSHS never should have been in that situation.
"We've gotta learn how to play under pressure," the quarterback said, "and there's a lot of stuff we need to fix."
In particular, FSHS couldn't gain any momentum on offense in the first half. After picking up a first down on each of their first two possessions, the Firebirds didn't do so again the rest of the first half and only gained 34 yards of offense after their second series. O-North led 19-7 at halftime.
Lisher said the early futility proved difficult to overcome.
"But our kids are resilient. They came back at the end and gave themselves a chance to win," the coach said. "The problem is we dug a hole for ourselves. We were back to the way we played three weeks ago, when we made so many mistakes."
Dineen said Free State put too much credit in the team's win over defending champion Shawnee Mission West last week, a victory that put the team atop the state rankings.
"We came out big-headed off of a big win," Dineen said. "That's a great team (O-North) and they stuck it to us."
---
FSHS | O-North
First downs 14 | 10
Rushes-yards 17-89 | 45-251
Passing yards 224 | 119
Total offense 313 | 370
Return yards 109 | 71
Fumbles-lost 1-1 | 2-0
Penalties-yards 6-60 | 4-30
Score by quarters
FSHS 0 7 6 6 — 19
O-North 7 12 7 0 — 26
Individual statistics
Rushing
FSHS: Joe Dineen 6-50 TD, Stan Skwarlo 9-37, Keith Loneker 2-2.
O-North: Venus Triplett 28-221 2 TDs, Cole Murphy 16-42, Chaz Burgess 1-minus-12.
Passing
FSHS: Dineen 21-37-224 TD interception.
O-North: Murphy 5-7-119 2 TDs interception.
Receiving
FSHS: Khadre Lane 8-110 TD, Loneker 4-49, Blake Winslow 5-47, Lucas Werner 1-9, Skwarlo 3-9.
O-North: Mauricio Chio 1-47, Triplett 2-39 TD, Josh Moore 1-25 TD, Burgess 1-8.
HOW THEY SCORED
First quarter
3:12 — Josh Moore 25 pass from Cole Murphy. Ivan Aguero kick. (O-North 7, FSHS 0.)
Second quarter
7:36 — Venus Triplett 14 run. Aguero kick blocked by Zach Bickling. (O-North 13, FSHS 0.)
2:14 — Blake Winslow 77 interception return. Joel Spain kick. (O-North 13, FSHS 7.)
0:14 — Triplett 11 pass from Murphy. Murphy pass broken up by Joe Dineen. (O-North 19, FSHS 7.)
Third quarter
7:31 — Triplett 80 run. Aguero kick. (O-North 26, FSHS 7.)
4:26 — Dineen 10 run. Spain kick failed. (O-North 26, FSHS 13.)
Fourth quarter
1:06 — Khadre Lane 15 pass from Dineen. Dineen pass failed. (O-North 26, FSHS 19.)
Copyright 2018 The Lawrence Journal-World. All rights reserved. This material may not be published, broadcast, rewritten or redistributed. We strive to uphold our values for every story published.