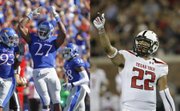 After a strong start to his third college football season, Kansas University junior Victor Simmons finally will get his shot at a welcome-to-the-big-time moment when the Jayhawks (2-1) play host to No. 20 Texas Tech (4-0) at 11 a.m. today.
Simmons, a nickel back from Olathe who is starting regularly for the first time in his career, will be responsible for covering Texas Tech tight end Jace Amaro, a 6-foot-5, 260-pound mountain of a man who runs like he's returning kicks and beats up opponents like Sasquatch in those beef jerky commercials.
KU coach Charlie Weis called Amaro the Red Raiders' "go-to guy" and said the junior from San Antonio is as big a match-up nightmare as anybody in the country.
"They list him as a tight end," Weis said. "(But) he might line up as a tight end about three times a game. He's flexed almost all the time. He's a big man. He plays inside. He's got 29 catches for 370 yards already. He's got good hands. He runs good routes. … The question is, do you put a linebacker on him, do you put a safety on him, do you put a defensive back on him?"
It's possible Kansas might try all three methods before today's game is finished. But the Jayhawks figure to start with Simmons, who, as a former high school quarterback and safety, is fast enough to keep up and, at 6-2 and 220 pounds of pure muscle, physical enough to hang in there.
"He's a specimen," junior safety Cassius Sendish said of secondary-mate Simmons. "And this is a good opportunity for Victor to showcase his skills. He's just as physical as he is agile, and I'm looking forward to what he puts out there on Saturday."
So is Simmons, who just last year had fallen off of KU's depth chart completely and was spending most of his time playing linebacker for KU's scout-team defense. That change came after a few minutes in the spotlight during his freshman season, when he enjoyed moments where he outplayed his experience and appeared well on his way to becoming KU's next strong safety. Despite the ups and downs, Simmons said he's glad things have played out the way they have for him so far at Kansas. That's partly because it forced him to mature and look deep within himself to become the player he wanted to become and partly because the time at both safety and linebacker allowed him to take quickly to the idea of playing nickel back or, as he calls it, "safety-linebacker."
"It's probably the only roller coaster I'll ever ride," said Simmons, who admitted he's not a fan of the popular amusement-park attractions. "But I think a light came on for me. Something snapped. I understood the game more, and that really just led into the physical part. I've always been able to run, so once I figured out where I'm going it was easy from there."
Entering KU's Big 12 opener, Simmons ranks second on KU's defense with 22 tackles and also has three tackles for loss, one sack and one pass break-up. While those numbers have Simmons feeling like he finally belongs, he knows that limiting Amaro today will be as big of a challenge as he has ever faced.
"He's a good player all the way around," Simmons said. "So it's gonna take good execution to keep him under wraps. I'm pretty excited. It's a new challenge. I'm gonna do my best to execute my assignment, and I should have a good game."
Asked if he planned to rely more on his wheels or muscle to neutralize Amaro, Simmons grinned and gave the only answer he could stand behind.
"I'm gonna have to say both," he said. "With a guy that's 6-5 and 260 that can run, it's gonna take both."
To help prepare him for his biggest challenge to date, Simmons leaned on KU freshmen Ben Johnson (6-5, 235) and Jordan Shelley-Smith (6-5, 245) during practice this week.
"We have a couple freshmen tight ends who are pretty big themselves, and they run pretty well," Simmons said. "So they're doing a good job of giving me a look."
Preparing for Amaro's size and speed is one thing, but Weis said the monster playmaker's unique ability to combine his raw power with good feet, great hands and even a little finesse might be the most difficult aspect of the match-up. Combine that with the fact that the Red Raiders play as fast as possible on offense, and it makes Simmons all the more important.
"You better have a plan going in," Weis said. "Because with the tempo they play at, you don't have a lot of time during a series to make massive personnel adjustments. You'd like to think that with (Simmons') physicality and girth we have a chance right off the bat with somebody who shouldn't be grossly mismatched."
Copyright 2018 The Lawrence Journal-World. All rights reserved. This material may not be published, broadcast, rewritten or redistributed. We strive to uphold our values for every story published.