Find HOUSE OF CHá at: 21 W 9th St., Lawrence, Kan. 66044.
Phone: 785-856-6688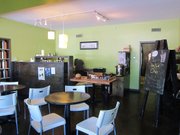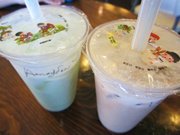 When I lived in New York, I'd see plenty of bubble teashops scattered around my neighborhood in Chinatown. Not being a huge fan of tapioca (a common ingredient in bubble tea), I never gave this drink much consideration. Interestingly enough, it was once I moved to Lawrence and became acquainted with HOUSE OF CHá that my interest piqued. I'm now a devoted fan and would drink it daily if my budget would allow it.
HOUSE OF CHá's tagline is "Sip the art of tea." I have to admit, this phrase was a bit lost on me, being a newbie to the world that is bubble tea. Sure, I enjoy my honey vanilla chamomile herbal tea during the colder months, and nothing beats an iced tea on a sweltering summer day, but I hadn't really ventured beyond that. Luckily, I'll try almost anything once, and that's all it took to get me hooked!
A friend and I strolled into HOUSE OF CHá on a warm late-summer day. The flavor spotlight was vanilla chai, as indicated by the large chalkboard easel near the entrance, and it sounded like a safe starting point for me. I'm always grateful for recommendations when entering unfamiliar territories, which is a good thing considering the menu is chock-full of different flavor options and "texture" additions (such as tapioca pearls or flavored jellies). Between the creamy milk teas and the fruity iced teas, there are well over 30 options, which can be served iced or hot.
After placing our order at the counter, it didn't take long for our drinks to be whipped up. Served in a cup sealed with plastic cellophane (spill-proof!), we grabbed a couple extra thick straws (suited for drinking the tapioca pearls) and pierced the tops. My iced vanilla chai was an instant hit! The sweet milky goodness was exactly what I needed on that warm afternoon. While my drink didn't include any tapioca pearls or jellies (baby steps, right?), I was pretty delighted with this new taste.
HOUSE OF CHá is just one more example of the unexpected gems downtown has to offer. It makes for a great afternoon break spot, ideal for catching up with friends. My friend picked up the tab during our visit but at $3.75 for a small drink, it's an affordable indulgence!

Copyright 2018 The Lawrence Journal-World. All rights reserved. This material may not be published, broadcast, rewritten or redistributed. We strive to uphold our values for every story published.