Photo Gallery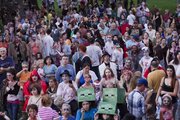 Annual Lawrence Zombie Walk
Zombies and humans alike gathered Thursday, October 3, 2013 for the annual Zombie Walk that started at South Park and travelled through Downtown Lawrence.
Peppy cheerleaders, elaborate floats, eager college students and bloody zombies marched down Massachusetts Street Thursday night as the Kansas University homecoming parade and the seventh annual Lawrence Zombie Walk brought a unique mix of Jayhawk and Lawrence pride to downtown.
While the KU marching band was kicking off the parade with the Jayhawk fight song at 6 p.m., more than 1,000 zombies of all ages were dancing to eerie Halloween music in South Park, preparing for their own sidewalk parade at 7 p.m. The homecoming parade's theme was "Jayhawks around the world," but as the evening went on, the underworld came out, as well.
The KU parade was dotted with convertibles bearing fresh-faced student leaders from the ExCEL (Excellence in Community Education and Leadership) program. But then darkness came, and they were replaced by hundreds of pasty-faced, blood-spattered representatives of the undead.
Parade-goer Tahki Bannister said that while the mix of parade confetti and zombie guts lining Massachusetts Street made for an unusual evening, the combination was representative of Lawrence itself.
"It was a double treat," Bannister said. "It really showed the character and liberalness of Lawrence to see the seriousness of a homecoming parade paired with the foolish, happy-go-lucky atmosphere of the zombie walk."
Cindy O'Neal, who recently moved to Lawrence from Hutchinson, said, "It fit right into the perception of Lawrence. If you move to Lawrence and don't have fun, it's your own fault."
It was first time since 1990 that the KU homecoming parade route had graced downtown Lawrence instead of Jayhawk Boulevard. With Late Night in the Phog Friday and an 11 a.m. Saturday football kickoff time forcing organizers to move the parade to a Thursday, Elle Rose, the 2013 KU homecoming steering committee parade co-chair, said organizers had to find a fresh way to attract a parade crowd.
"We knew some alumni might not be able to make the parade if we had to move it to a Thursday," Rose said, "but if we had it downtown, we knew the community would be so supportive."
However, when the parade was rerouted to Massachusetts Street, organizers discovered it was set for same evening that had been booked for the zombie walk. Rose said that while she was initially nervous about the overlapping and seemingly incongruent events, the combination of the two downtown spectacles brought something special to this year's homecoming celebration.
"I was very worried at first, to be honest," Rose said. "But I think having the two events on the same night actually boosted turnout and we were able to engage even more of the community."
And after hearing the last Jayhawk cheer and the final zombie moan as the evening came to an end, Rose said that the collaborative mix of school pride and zany fun made sense for Lawrence.
"I can guarantee Texas Tech won't be dealing with a situation like this at their homecoming," Rose joked. "Only in Lawrence."
Copyright 2018 The Lawrence Journal-World. All rights reserved. This material may not be published, broadcast, rewritten or redistributed. We strive to uphold our values for every story published.