Photo Gallery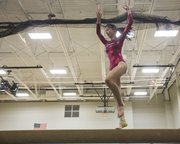 Free State gymnastics invitational
Free State High senior Hannah Moran admits that she forgot part of her floor routine during Wednesday's home invitational. Then again, she also posted a personal-best score of 8.75 in the same event.
So how does that happen?
"I actually think the biggest part was the energy," Moran said following the Firebirds' team victory over Olathe Northwest, Olathe East and Lawrence. "I felt really good, and it helps so much just to have everyone screaming."
The Firebirds literally took center stage for their final — and favorite — event.
With the other three teams already completing their meets, Free State delivered impressive performances with everyone watching.
Grace Bartle posted a 9.1 in the event to take third, while Carrie Howland wrapped up the meet with a 9.35 to take the individual title.
"It was just loud, and it's home, and it's the last event, so you're just going all-out," Howland said. "You put all your energy into it, and it's the best event, I think."
Bartle and Howland led FSHS to the team victory, finishing second and third in the all-around. Bartle edged her teammate by one-tenth of a point, posting a 35.65 to Howland's 35.55.
Free State's 109.6 points easily outpaced second-place Olathe Northwest (103.8).
"I feel like we have the potential to be so great. We're still building," Bartle said. "We have such a long way to go before state and league. I'm happy where we are now."
Howland's biggest improvement came in beam, where she tied for second with Bartle (9.2).
"I usually fall on my harder tricks, but I fixed that over the past week," Howland said. "I practiced it a lot. It was a lot more solid."
Bartle, meanwhile, added new skills on the vault and uneven bars to increase her scores.
The Firebirds' Haley Johnson added a fifth-place performance in the all-around (33.1), while Moran was sixth in her final home meet (32.95).
"We're trying really hard to not look at the scoreboard and just have a good time," Moran said. "We knew that floor was our best event. We saved the best for last."
In her final Lawrence meet, Lawrence High senior Allison Williams was eighth in the all-around (32.35).
"I didn't think it was going to be sad, and I didn't think I was going to get emotional," Williams said. "Then when I was looking at my teammates I've been with since I was little, I was tearing up a little bit."
Williams was most happy with her team's scores on floor exercise, where the Lions have added extra twisting elements to increase their difficulty. Ashley Ammann was the Lions' best finisher in the event with an 8.8.
Olathe East finished with 97.25 team points, while LHS had 93.7.
Both Lawrence schools will participate Saturday in the Newton Invitational.
Free State Invitational
Team scores: 1. Free State 109.6; 2. Olathe Northwest 103.8; 3. Olathe East 97.25; 4. Lawrence 93.7.
Free State individual results
Vault — 2. Grace Bartle 9.05; 3. Carrie Howland 8.8; Hannah Moran 8.6; Haley Johnson 8.5; Becca Moran 8.0.
Uneven bars —2. Bartle 8.3; Howland 8.2; H. Moran 7.8; Johnson 7.6.
Balance beam —T2. Howland 9.2; T2. Bartle 9.2; Johnson 8.2; H. Moran 7.8; Brooklyn Hayes 5.0.
Floor —1. Howland 9.35; 2. Bartle 9.1; Johnson 8.8; H. Moran 8.75; Hayes 7.4.
Lawrence individual results
Vault — Ashley Ammann 8.5; Allison Williams 8.45; Jordyn Leon 8.1.
Uneven bars — Williams 7.5; Leon 7.45; Ammann 6.95.
Balance beam — Williams 8.2; Leon 7.3; Elizabeth Harms 6.1; Ammann 5.4.
Floor — Ammann 8.8; Williams 8.2; Leon 8.15; Harms 7.95; Shaelyn Marr 6.5.
All-around city medalists: 2. Bartle, FS, 35.65; 3. Howland, FS, 35.55; 5. Johnson, FS, 33.1; 6. H. Moran, FS, 32.95; 8. Williams, LHS, 32.35; 11. Leon, LHS, 31; 13. Ammann, LHS, 29.65.
Copyright 2018 The Lawrence Journal-World. All rights reserved. This material may not be published, broadcast, rewritten or redistributed. We strive to uphold our values for every story published.