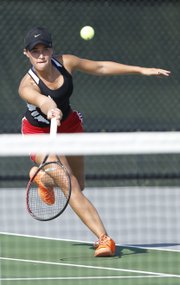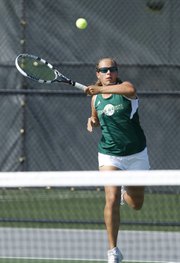 Free State High tennis partners Taylor Hawkins and Caitlin Dodd had just blown a three-game lead Tuesday afternoon, and lost their No. 2 doubles match to rival Lawrence High's Brooke Braman and Zoe Schneider.
As Hawkins and Dodd walked off their home court, they were greeted by coach Oather Strawderman, who wanted to let them know they were capable of so much more.
"That's just not the way we're gonna play," Strawderman told them. "That's not Free State tennis. We don't take a 5-2 lead and blow it like that. That's not acceptable."
Hawkins, a junior, and Dodd, a sophomore, both still had to play a singles match in the City Showdown, so their coach gave them two choices: respond to the loss or mope about it.
Dodd recovered to defeat Schneider, 8-2, in No. 3 singles and Hawkins didn't drop a game in an 8-0 sweep of Braman to win No. 4 singles. The players' quick recovery proved critical in Free State's 5-4 victory over the Lions at the dual.
"They came out there fired up," Strawderman said, "and they played amazing tennis."
Hawkins said neither of them performed like they were capable of in the 8-6 doubles loss. Dodd said they both refocused after talking with their coach.
"You just have to not worry about it," Dodd said. "Forget it and just move on, really fast."
Firebirds senior Alexis Czapinski shut out Whitney Simons, 8-0, in No. 1 singles and FSHS sophomore Rachel Walters beat Caroline Baloga, 8-3, in No. 6 singles to seal the dual victory and give FSHS victories in four of its six final matches. Lawrence junior Kendall Pritchard won, 8-3, against Megan McReynolds in the No. 2 slot and the Lions' No. 5, junior Yelena Birt, held off Alyssa Raye, 8-5.
LHS took a 2-1 lead at the dual through three doubles matches, and Strawderman pointed to Hawkins and Dodd for turning the tide in Free State's favor once singles play began.
"Those two really set the tone for the other singles matches and showed the other girls we're not just rolling over," Strawderman said. "We're here on our courts and we're gonna win this."
Typically, because Free State only competes in two duals a season, Hawkins and Dodd regularly play doubles matches exclusively.
"It's a nice change-up," Hawkins said, "because you're playing every point and the ball's always coming to you. Then again it's a lot more pressure not having that other person there. If you get down on yourself, you have to bring yourself back up."
Pritchard said the Lions felt positive about their early 2-1 lead in the dual, following the Braman-Schneider comeback and an 8-7 (7-3) tiebreaker win for Birt and Baloga in No. 3 doubles.
Because Lawrence had only defeated Free State, head-to-head, once in program history, Pritchard said the dual took on an added level of significance. And the Lions' early cushion gave her some added motivation against McReynolds, whom Pritchard had never before defeated.
"This one was kind of a big deal," Pritchard said of her singles win, which, like the Birt and Braman-Schneider victories, gave LHS a seeding advantage over their FSHS opponents for the Sunflower League Tournament — to be played Thursday at Leavenworth.
The Lions' wins would have felt even sweeter, Pritchard said, had they left the dual on top.
"It's really disappointing," Pritchard said after FSHS improved its dual record against Lawrence to 16-1. "Out of all the people we play, those are the people we want to beat. We always have next year."
---
Free State 5, Lawrence 4
Singles
No. 1 — Alexis Czapinski, FSHS, def. Whitney Simons, 8-0
No. 2 — Kendall Pritchard, LHS, def. Megan McReynolds, 8-3
No. 3 — Caitlin Dodd, FSHS, def. Zoe Schneider, 8-2
No. 4 — Taylor Hawkins, FSHS, def. Brooke Braman, 8-0
No. 5 — Yelena Birt, LHS, def. Alyssa Raye, 8-5
No. 6 — Rachel Walters, FSHS, def. Caroline Baloga, 8-3
Doubles
No. 1 — Czapinski-McReynolds, FSHS, def. Simons-Pritchard, 8-5
No. 2 — Braman-Schneider, LHS, def. Hawkins-Dodd, 8-6
No. 3 — Birt-Bologa, LHS, def. Raye-Walters, 8-7 (7-3)
Copyright 2018 The Lawrence Journal-World. All rights reserved. This material may not be published, broadcast, rewritten or redistributed. We strive to uphold our values for every story published.