KU news
More LJWorld KU News Coverage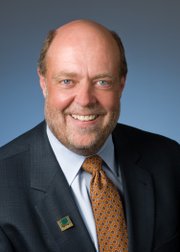 Today the Kansas University Hospital celebrates a kind of independence day.
Fifteen years ago the KU Hospital Authority was formed, setting the hospital up as a nonprofit entity and ending its financial dependence on the state of Kansas, as well as its life as a university-controlled organization. The hospital itself is a separate entity from the university-controlled Kansas University Medical Center, which houses the School of Medicine and other healthcare-related programs, and doesn't provide clinical care.
KU Hospital CEO Bob Page called the transition a "Hail Mary pass." Page saw the transformation firsthand, having started with the hospital in 1996 before becoming Chief Operations Officer in 2000 and then Chief Executive Officer in 2007. Page said of the creation of the Hospital Authority, "What it really did was allow us to focus on our core business" of treating patients.
In the years that followed, measures of the hospital's success have improved significantly. It went from a national customer satisfaction ranking in the bottom fifth percentile in 1998, among the worst in the country at the time, to the 92nd percentile in 2013, according to figures provided by the hospital.
The patient mortality index for KU Hospital, in Kansas City, Kan., went from 1.14 in 1998, meaning there were 46 more deaths than would be expected given patients' conditions, to 0.65 in 2013, which means there were 312 fewer deaths than expected.

The hospital has also expanded its operations significantly since 1998. Its inpatient admissions are up 135 percent over the last 15 years and outpatient visits are up 306 percent.
Since 1998 the hospital has reinvested $1 billion in revenue back into its operations. With some of that money going to more training and higher salaries, staff turnover rates decreased, from more than 33 percent to just over 11 percent.
Page attributes many of these improvements to the change in the hospital's governing and financial structure. Before the birth of the hospital authority, spending and organizational decisions had to run through the state, which added time and bureaucratic hassles to hospital operations. "We didn't have our own checkbook," Page said. "We weren't spending our own money."
The hospital still maintains an organizational relationship with both Kansas University and the state. KU officials, including KU Chancellor Bernadette Gray-Little, sit on the authority's board. The governor also plays a role in the makeup of the board through a selection committee.
Not only has the hospital benefited from the reorganization, so has the university. The hospital provides KU with many millions of dollars every year to, among other things, supplement faculty salaries at the KU Medical Center and Cancer Research Center, pay the cost of residents and purchase services from the university health centers.
Copyright 2013 The Lawrence Journal-World. All rights reserved. This material may not be published, broadcast, rewritten or redistributed. We strive to uphold our values for every story published.