Last chance
The Dec. 14 Holiday Farmer's Market at the Holidome, 200 McDonald Drive, will be the last opportunity to purchase Alejandro Lule's tamales until the Saturday market returns in April.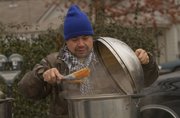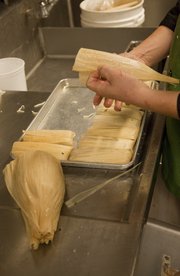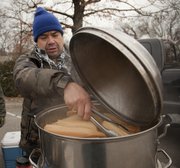 Alejandro Lule stood in the stinging cold on the morning of this year's final Saturday farmer's market downtown. Beside him were large metal pots filled with tamales, each enveloping steaming chicken, pork or green chiles and cheeses.
Lule, who has co-owned three downtown restaurants with Subarna Bhattachan since the late 1990s, has been doing this for years. He wakes at 3 a.m. to prepare tamales for the market, usually after tending to business at La Parrilla, Genovese or Zen Zero the night before. He almost put this side business, called Circle S Tamales, on hold this year, but he said he'd miss the conversations with fellow market vendors and the farmers at the ranch north of Lawrence at which he prepares the tamales.
"If this was about working or anything..." Lule said, "I already have plenty of things to do."
Two days before the downtown market's outdoor finale, Lule was finishing open prep work for La Parrilla while his 9-year-old son, Giuliano, napped on a leather couch nearby. Lule reflected on why he still hawks tamales downtown in addition to helping to operate three businesses, and also on how he made it up here from the Central Mexican state of Guanajuato: hunger.
"You cannot sleep when you are hungry," he said. "When I went to school I realized I cannot think because I was thinking of going outside and trying to make some money so I could have food."
Lule's father, Andres Lule, first worked in the United States when he helped lay railroad tracks during World War II. Alejandro made his way north at 17 and found work hauling heavy buckets of onions, melons and berries under the sun of California's San Joaquin Valley. Working from 4 a.m. to 3 p.m. most days, Lule's weight dropped to 105 pounds. And after paying for his ride to the fields and for food, he'd be left with around six bucks for a day's work. Nine months later he found work in a San Francisco restaurant, first as a dishwasher and then helping to prepare food for the plates he once cleaned.
"That was the best thing that happened in my life," he says now.
Lule followed a girlfriend to Lawrence when she moved for college more than 20 years ago. He's well traveled, taking vacations in South America and Europe, but has called Lawrence home since the move from California.
"In America I think we complain more," he said. "Everything comes so easy that we don't see it."
Lule cherishes the routine of making tamales. And at the market, he says, he thinks about friends whom he calls "real people," the farmers who go to bed thinking of how they'll turn the next day's harvest into a living.
Some days, Lule said, he'll trade tamales for vegetables, fruits or bread at the market. "Like the Old World, man."
"You trade and it makes you feel good, makes you feel like you have something that people really wanted," he said.
Copyright 2018 The Lawrence Journal-World. All rights reserved. This material may not be published, broadcast, rewritten or redistributed. We strive to uphold our values for every story published.