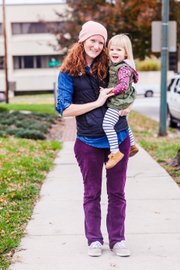 Ages: 32 and 2
Relationship status: Married
Hometown: Buhler
Time in Lawrence: I just moved back a year ago but I have lived here seven years prior.
Occupation: I'm a stay-at-home mom! This is my (beautiful) daughter Trudy.
Dream job: I would love to be a textile designer.
Describe both of your styles: Oh gosh! Well, we lived on the West Coast, we'd love to live on the East Coast and we live somewhere in the middle so our influence is comfortable, but with a hint of, I don't know, Park Slope pretension or something.
Fashion trends you love: Bold mixed prints, the wedge-sneaker and dark denim.
Fashion trends you hate: Camo mixed with rhinestones.
Fashion influences: Individuals like @bleubird, @elsiecake, @madebylon, @keikolynn and @houseinhabit on Instagram and Pinterest.
What would you like to see more of in Lawrence? More fitted clothing and more dressing up on appropriate days like Sunday: I would love if everyone looked nice.
Less of? Less fleece.
What is Trudy into? She's very spirited. She loves the outdoors unless it's very cold and she has a monkey that wears underwear. She has a big brother, so she does everything he does!
Whom do people say you look like? My sisters. I have three sisters and we all look the same.
What type of music do you like or unwind to? Currently we're listening to the Okee Dokee Brothers but that's very much on my kids' influence, which is awesome for grown-ups! But I really love whatever my husband listens to.
Tell us a secret:  I like to eat potato chips with mac-and-cheese when no one is around.
Copyright 2018 The Lawrence Journal-World. All rights reserved. This material may not be published, broadcast, rewritten or redistributed. We strive to uphold our values for every story published.