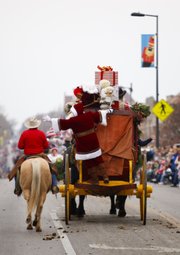 If you go
The parade starts at 7th and Massachusetts Saturday, Dec. 7 at 11 a.m. The horses head south on Massachusetts to South Park.
Last year's USA Today singled out Lawrence's Old-Fashioned Christmas Parade as one of the 10 best events in the country to find the Christmas spirit. The article noted that it brought out an old-fashioned feeling, a kind you don't see much of anymore.
"Police estimated that 25,000 people came out to see it," says parade director, Elaine VanDeventer.
And why not? It was the 20th anniversary of the event; there was a record number of entrants (78); and the weather was perfect.
"I know of three couples who drove all the way from Minnesota and Wisconsin," VanDeventer said.
As the only exclusive "horse" parade in the Midwest and one of very few throughout the United States, the event attracts entrants and spectators from as far north as South Dakota and as far south as Texas.
This year's parade, on Dec. 7, offers much the same as it has in years past: scores of two-thousand-pound draft horses, including a four-horse hitch of Clydesdales.
"It constantly amazes me that these huge horses, some weighing 2,500 to 3,000 pounds, let you put this little leather thing on their head and let you lead them around with a rope," said VanDeventer.
There will also be dozens of antique and authentic reproductions of wagons and carriages that represent an earlier era in America's story. Among the wagons in the parade will be a Civil War-era ambulance from Fort Scott and a 1904 pump wagon from the Topeka Fire Department.
"Our ancestors built things for specific purposes," VanDeventer said, "so we get these sophisticated carriages like courting buggies so couples could spend time together — with supervision of the driver, of course."
A first-time entry VanDeventer is looking forward to this year is something that came all the way from Europe: a wagon pulled by Gypsy Vanner horses.
"They're smaller than the other draft horses and really colorful. Usually black and white and really beautiful — and flashy." she said.
"I've seen pictures of them, but never in real life."
As much as she is looking forward to the various wagons and the horses this year, the thing that keeps VanDeventer coming back each year is the look on the faces of those who line the streets: "You see the jaws drop when the kids see the size of some of the horses," she said. "We're really fortunate in Lawrence that we have something this wonderful."
Copyright 2018 The Lawrence Journal-World. All rights reserved. This material may not be published, broadcast, rewritten or redistributed. We strive to uphold our values for every story published.